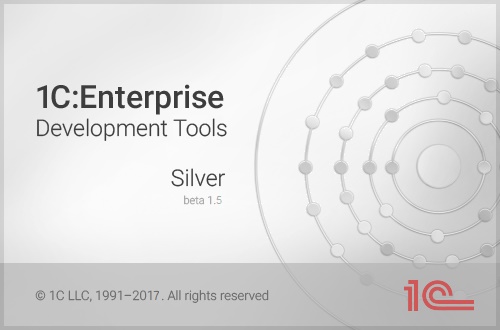 1C:Enterprise Development Tools is an integrated new-generation environment for the development of 1C:Enterprise business applications. You can use 1C:Enterprise Development Tools alongside with 1C:Enterprise Designer. Applications developed with 1C:Enterprise Development Tools are fully compatible with the latest 1C:Enterprise versions.
1C:Enterprise Development Tools provides the following advantages:
Modern interface compliant with the latest demands and requirements.
Rapid evolution and enhancement capabilities for the development environment through the use of plug-ins (developers can write custom plug-ins).
Support of modern group development tools (multiuser source code storages): Git, SVN, and more.
1C:Enterprise Development Tools improves usability of both individual and group development of 1C:Enterprise applications.
Version 1.5.0 is an improvement of version 1.4.0.
What's new in 1C:Enterprise Development Tools 1.5.0 (compared to version 1.4.0)
Optimization for the following operations with large configurations (of 1C:ERP 2.0 scale):


Editing rights and roles
Editing modules
Searching for objects
Opening editors
Building indexes and additional data
Entity relationship diagrams that visualize metadata object relationship
Further development for:

External report and data processor development
Performance measurements
Managed form editor
Module and query editors
Reporting tools

Support of new metadata object types:


Accounting register
Calculation register
Chart of accounts
Chart of calculation types
Business processes (except for process schemas) and tasks

Export and import of web service objects to or from XML files. The web service object model is now available for use. Creating and editing web service objects is not yet available.

The full list of changes is provided in the file Updates_en.html, which is included in 1C:Enterprise Development Tools distribution kit.
Beta version purpose and specifics
1C:Enterprise Development Tools is based on a totally new architecture. This provides a great potential for the implementation of a wide range of development automation tools and usability improvements. The functionality of the beta version is limited. In particular, it does not support some metadata object types. For the full list of limitations, see the documentation supplied with the beta version distribution kit.
1C:Enterprise Development Tools version 1.5.0 supports 1C:Enterprise platform versions 8.3.8 and 8.3.9.
The project migration feature ensures that you can use version 1.5.0 to work with configurations developed with earlier 1C:Enterprise Development Tools versions. Importing or running a project developed using an earlier version automatically converts it to version 1.5.0 project format.
The release of the full 1C:Enterprise Development Tools version is scheduled for the end of June 2017.
1C:Enterprise Development Tools 1.5.0 is primarily intended for development of mobile applications, external reports and data processors, and small configurations. It provides new features (listed above) for developers who use the beta version.
Beta version availability and support
1C:Enterprise Development Tools version 1.5.0 is available for free to registered 1C:Enterprise users and 1C partners.
You can download
1C:Enterprise Development Tools version 1.5.0
. The product documentation is included in the distribution kit.
Please send your feedback to int@1c.com.
You can discuss 1C:Enterprise Development Tools at the developer forum.
Section is not found
Section is not found