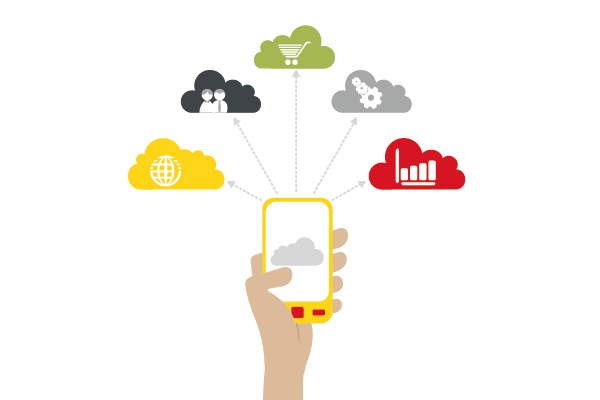 Vendors offering such essential business products as solutions for accounting, inventory tracking, and ERP systems have to seek ways to stand out from many competitors. It is precisely why you are constantly improving the functionality of your solutions and customizing them to fit into vertical niche markets. But in addition to enhancing the core functionality of your back-office solution, it might be wise to strengthen your offer by adding a simple consumer mobile application integrated with the core back-office system.
By consumers, we mean the customers of your customers. They are the ones who buy goods or services from companies to that you sell your accounting and automation solutions. Today, consumers seek to make purchases and order services via different channels, including stores, websites, or mobile apps, depending on what is convenient for them. At the same time, they are increasingly relying on mobile apps. (Google 2022 Retail Marketing Guide).
By complementing your back-office solution with a consumer mobile app, you not only help your customers save money through automation of their internal operations but also let them earn more by integrating a new digital sales channel into their businesses or increasing customer loyalty by introducing an efficient customer service channel.
So, how can you and your customers benefit from adding a consumer mobile app to your core product?
For you:
Added value for your core product that strengthens your selling proposition and increases sales.

One more way to take your universal back-office solution to niche markets. For example, you can customize your accounting solution for educational institutions, hospitals, car service stations, etc. And by adding the custom white-label mobile application developed specifically for consumers, you can offer a genuinely competitive product for niche markets.

One more thing to help you differentiate your product from competitors' offers.

For your customer:
One more digital sales channel.

A tool to level-up customer service and, as a result, boost customer loyalty;

An option to collect and analyze data about consumers using the mobile app (as specified in the user agreement);

A direct channel to deliver personified marketing communication and receive consumer feedback.
1C Company and its partners often bundle their back-office solutions with consumer mobile applications. And here are some examples of how you can use this approach to benefit your solution.
The Three Consumer Mobile App Use-Cases Common for the 1C Ecosystem.
A mobile app for customers of companies that sell goods at retail. The mobile application grants users access to the complete product catalog containing product images, descriptions, current prices, and reviews. Also, it allows them to place orders, make payments online, and pick a delivery method. Here is an example of such a mobile app created by 1C for its ERP solution for trade companies.

A mobile app for customers of car service centers. Car service customers use the mobile application to book time for car maintenance or repair, check the current status of work, and view the history of visits and amounts paid to the car service. Also, the application gives access to the car service news and special offers and provides notifications about the upcoming maintenance or scheduled replacement of parts.

Mobile application for customers of educational institutions (schools and kindergartens). This app is designed for parents of children who attend a private school or kindergarten. Using the app, parents monitor school attendance, check if the school's accounting department calculates outstanding fees correctly, receive invoices, make payments, get news, and communicate with teachers and the school administration.
Rise School Management is a great example of an accounting solution bundled with a consumer mobile app.
Consumers value the ability to place orders or communicate with vendors of goods and services through a mobile app as it saves their time. And this is what is worth focusing on when looking for ideas for mobile applications. On the customer part, it is worth considering that companies appreciate the possibility of branding the app and distributing it as their own.
1C Platform Technologies for Creating Mobile Applications for Consumers
Even though businesses understand all the benefits that mobile applications for consumers can bring, many companies do not yet have their own mobile applications. Developing a mobile app is an expensive and lengthy project for businesses, especially small ones. It is quite the contrary for software vendors developing on the 1C:Enterprise platform: creating a mobile application in parallel with the core back-office solution requires significantly fewer resources and investment as compared to other strategies.
A standard 1C:Enterprise platform package comes with the mobile app development platform, so you do not need to pay extra. With the mobile platform, you can create cross-platform applications that work on any mobile device running Android or iOS. At that, there is no need to hire a dedicated team to develop a mobile application since you use the same IDE and programming language as in the case with the core back-office application. And the platform's low-code tools allow the creation of mobile applications immensely faster than developing them with traditional programming methods.
Thus, with the 1C:Enterprise platform, you can offer your clients an affordable option to reach consumers with a digital sales channel or establish a convenient customer support service.
Got interested in developing back-office solutions bundled with consumer mobile apps? Start free with 1C:Enterprise!