Event Log Analyzer
Reports on user activities, duration of scheduled jobs, and log records of critical importance.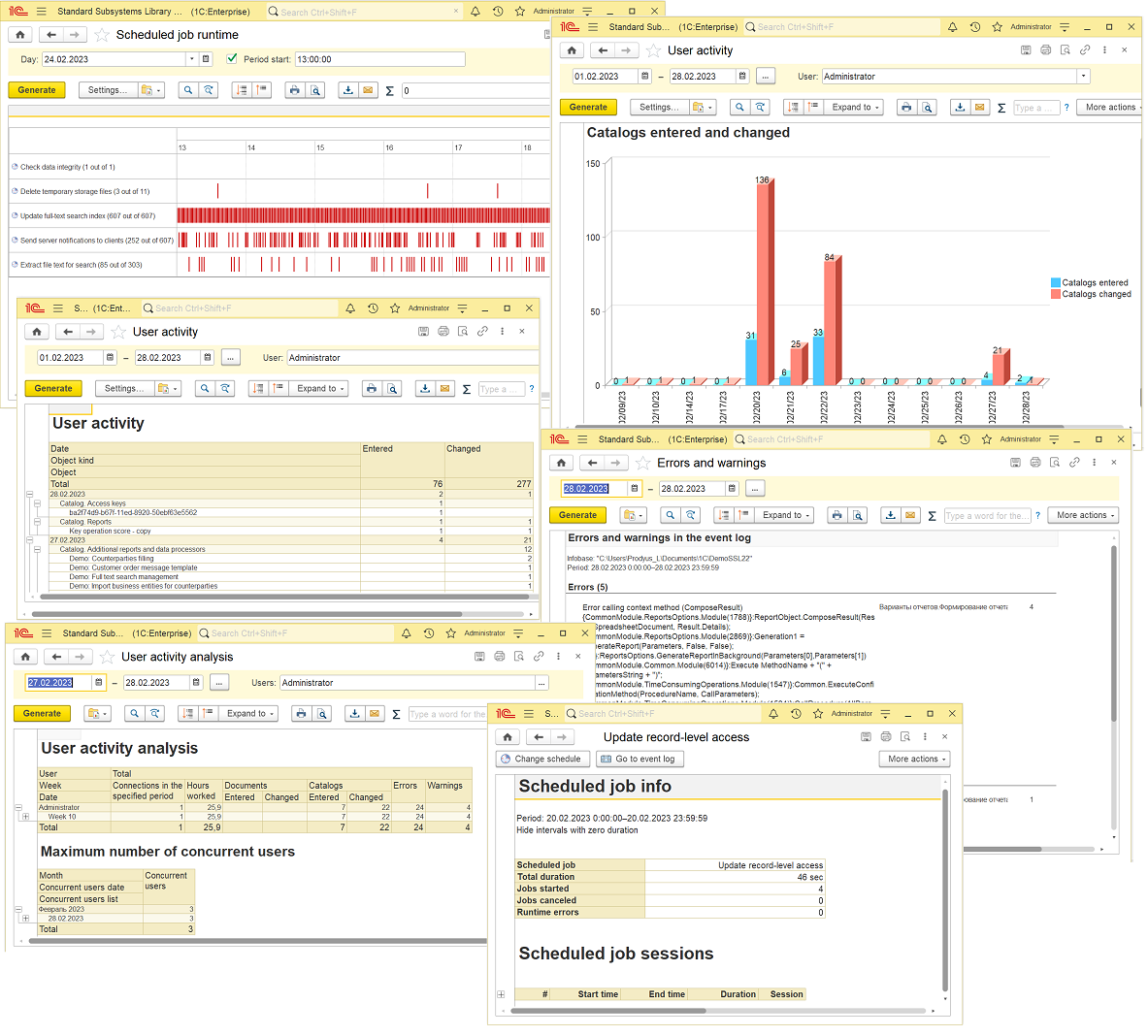 Additional Reports and Data Processors
Allows applications to attach additional (external) reports and data processors without modifying the configuration.
Additional reports and data processors can be linked to specific types of objects or sections of the command interface.
Data processor activation on schedule.
Management of additional reports and data processor lists via dedicated administration tools.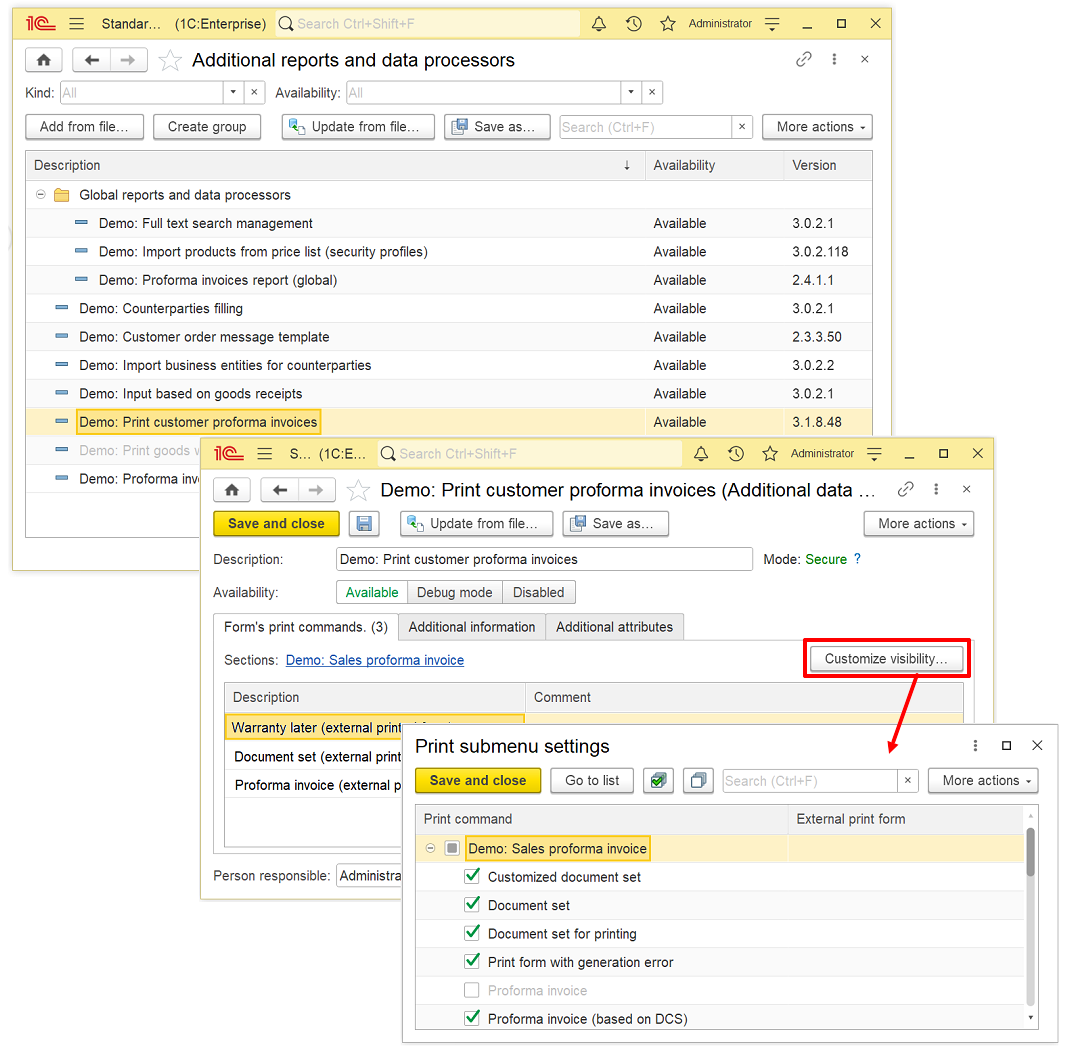 Application Settings
Ready-to-use workstations (panels) in the Administration section.
Administration panel layout gets adjusted to the currently selected mode in an application.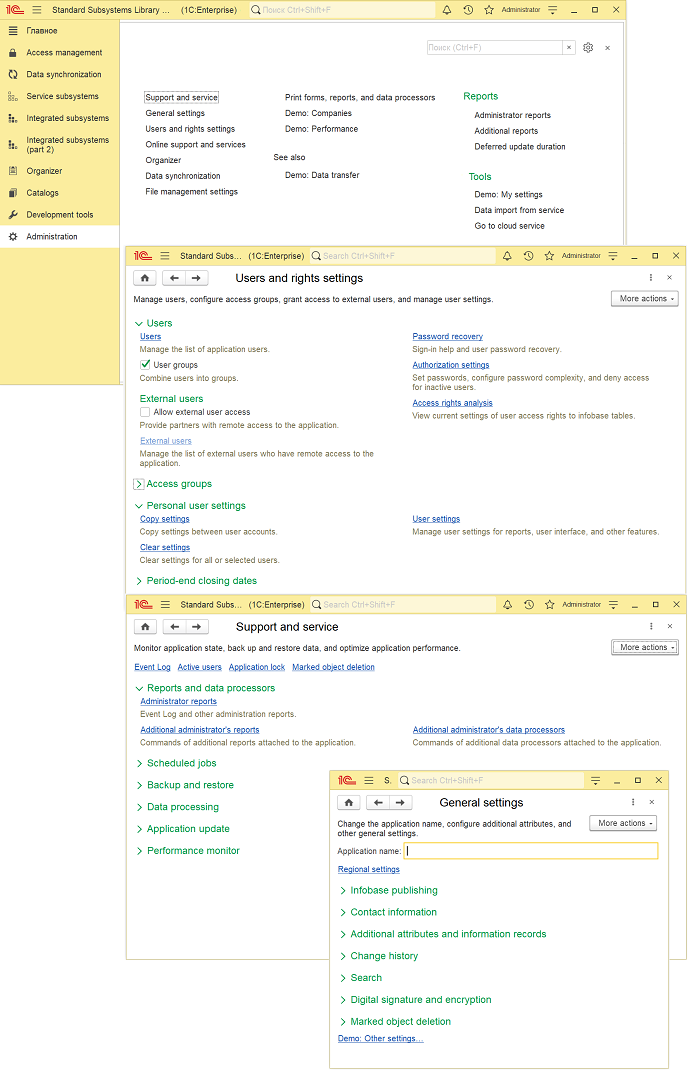 Configuration Update
Automatic update to a new version of an application, installation of error-correcting patches on demand (at a specified time in the future or on the application closing).
Installation of updates from a specified file on a local or network drive.
Changes in the main configuration apply to the database configuration.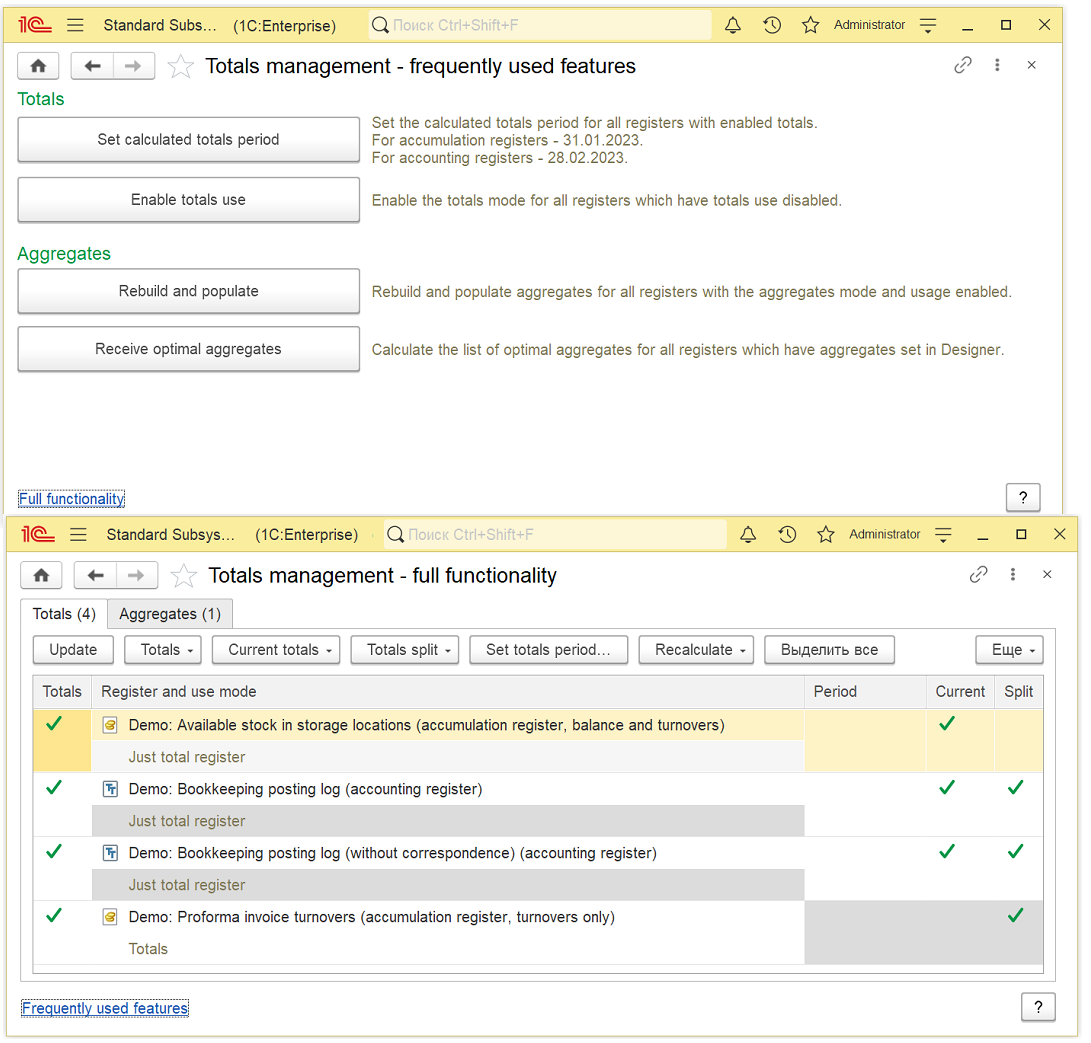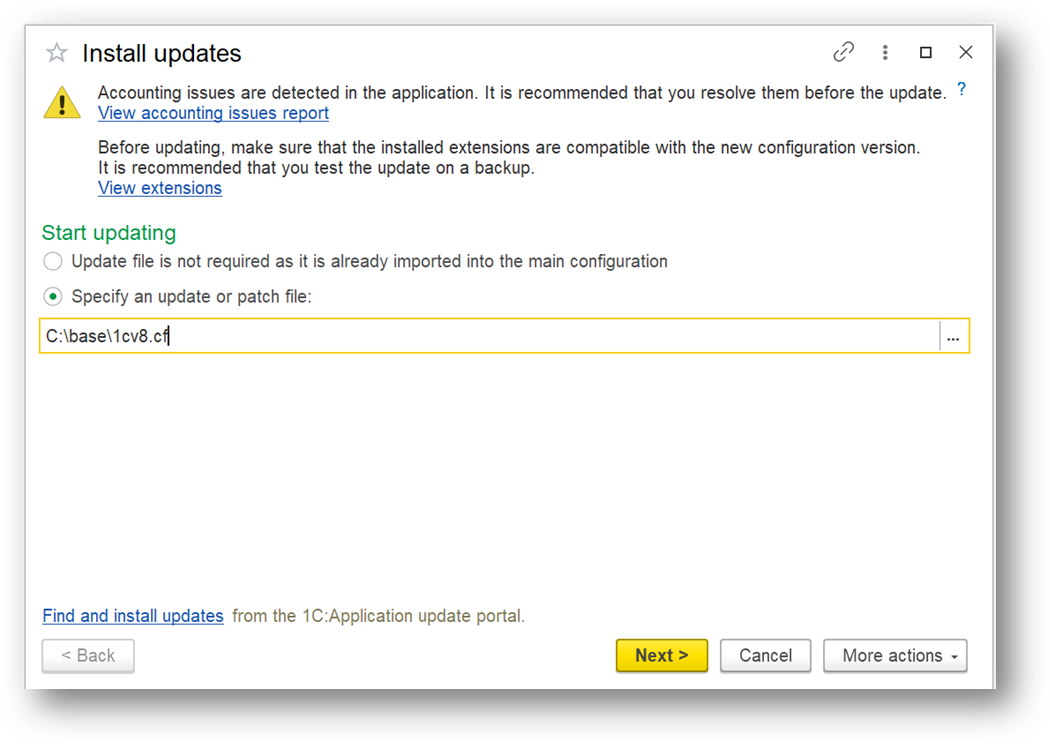 Document Records Report

The report provides information on records generated by posting documents and the registers that received such records.
Performance Monitor
Benchmarking of application's integral performance with the Apdex method.
Simplified and automated collection of data regarding the time spent on each key operation.
Tools for analyzing the measurement results.
Automatic export of performance indicators.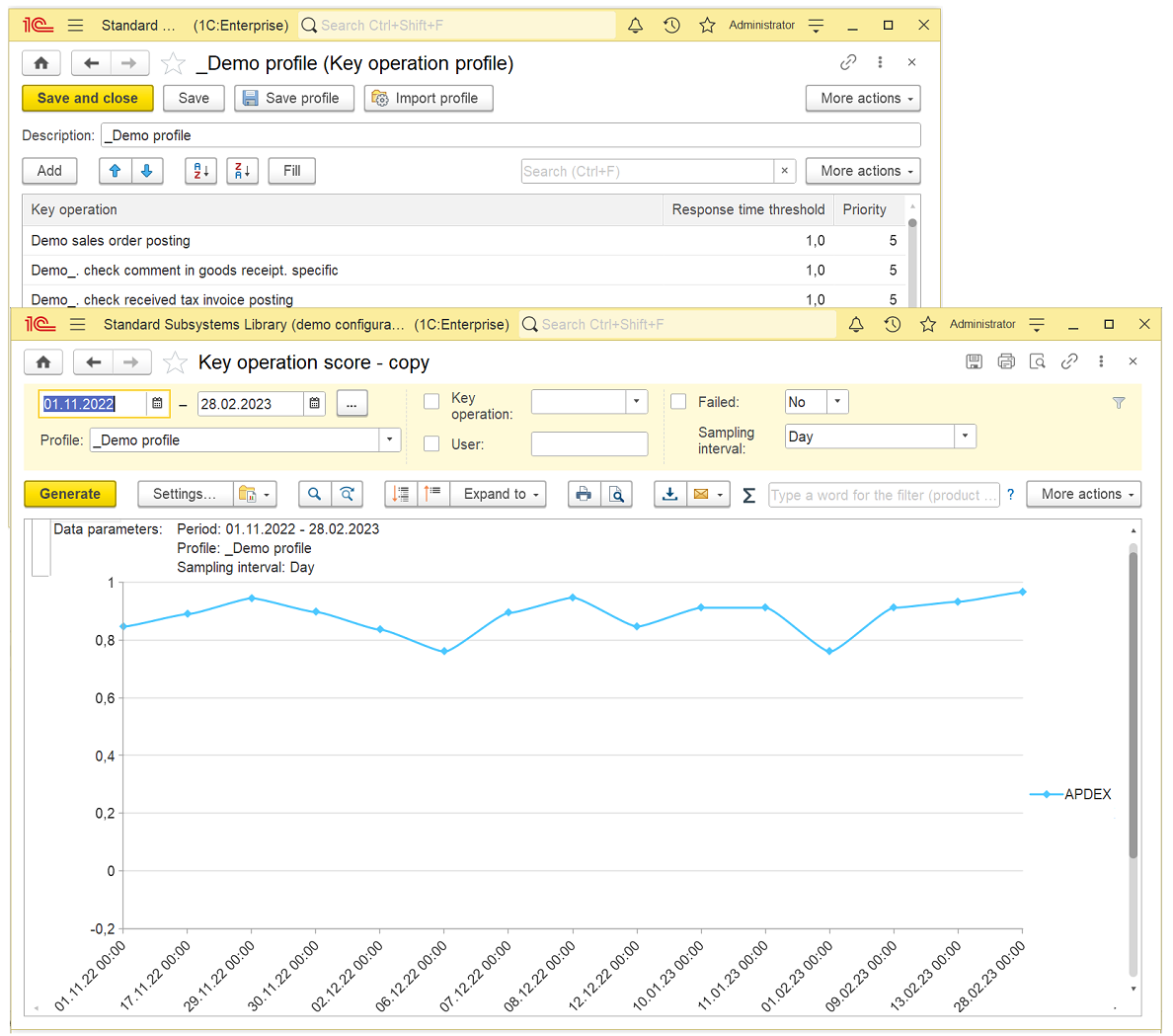 Duplicate Objects Detection
Search and removal of duplicate catalog elements.
Replacement of one element with another, merging of several identical list elements into one.
Automatic replacement of links to the removed duplicates in all documents and lists of an application.
Report on where a specific element is used.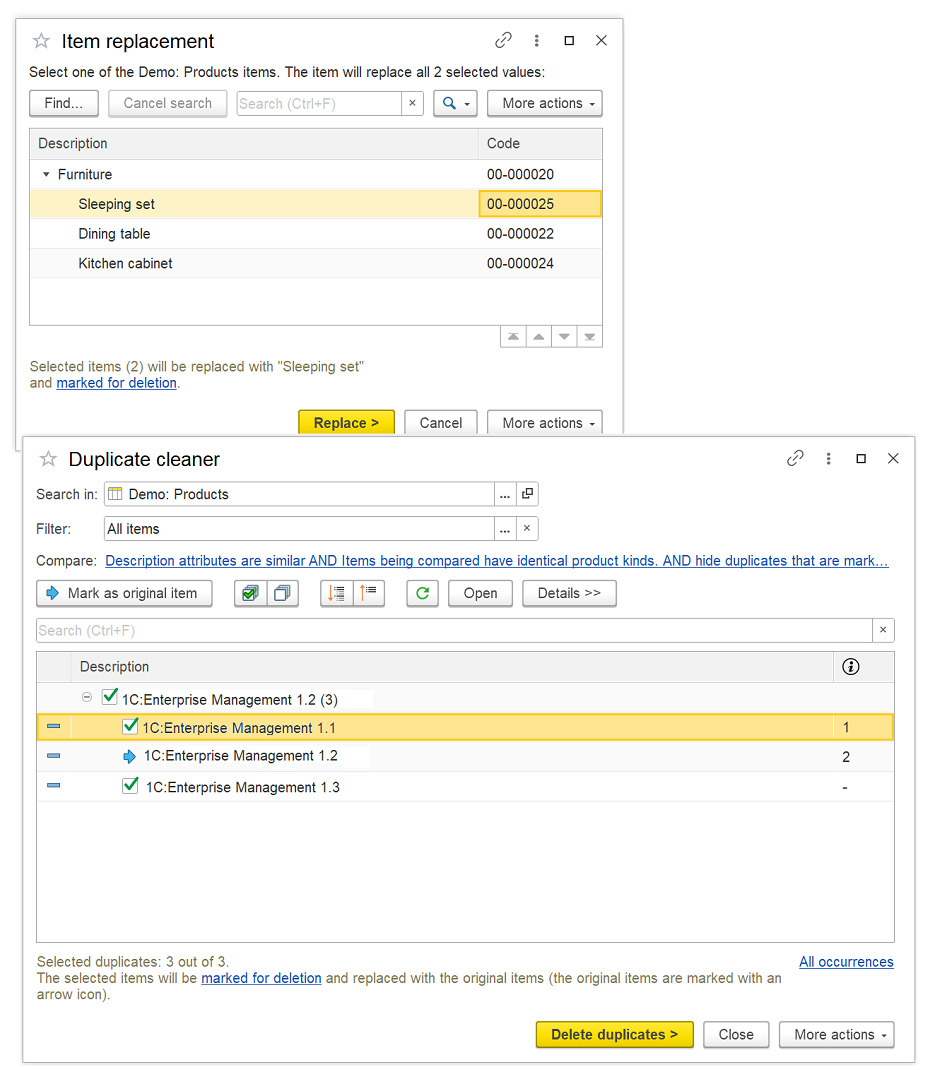 Security Profiles
Automatic configuration of infobase security profiles.
Access to report on attached external resources.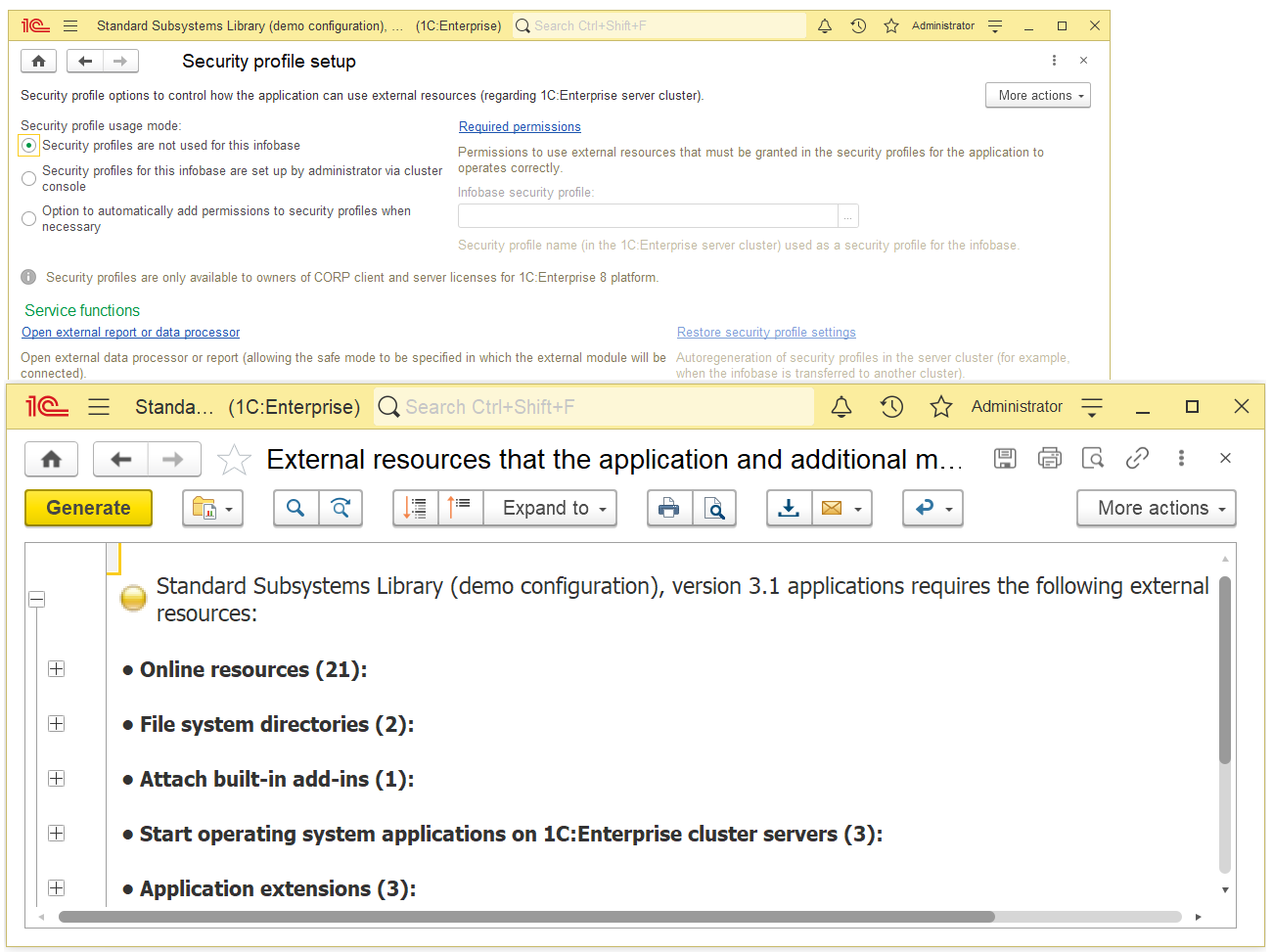 Scheduled Jobs
The list of scheduled jobs with customizable parameters (schedule, job start and stop).
External resources (data synchronization, mail send/receive, etc.) get locked at the start of infobase copying process.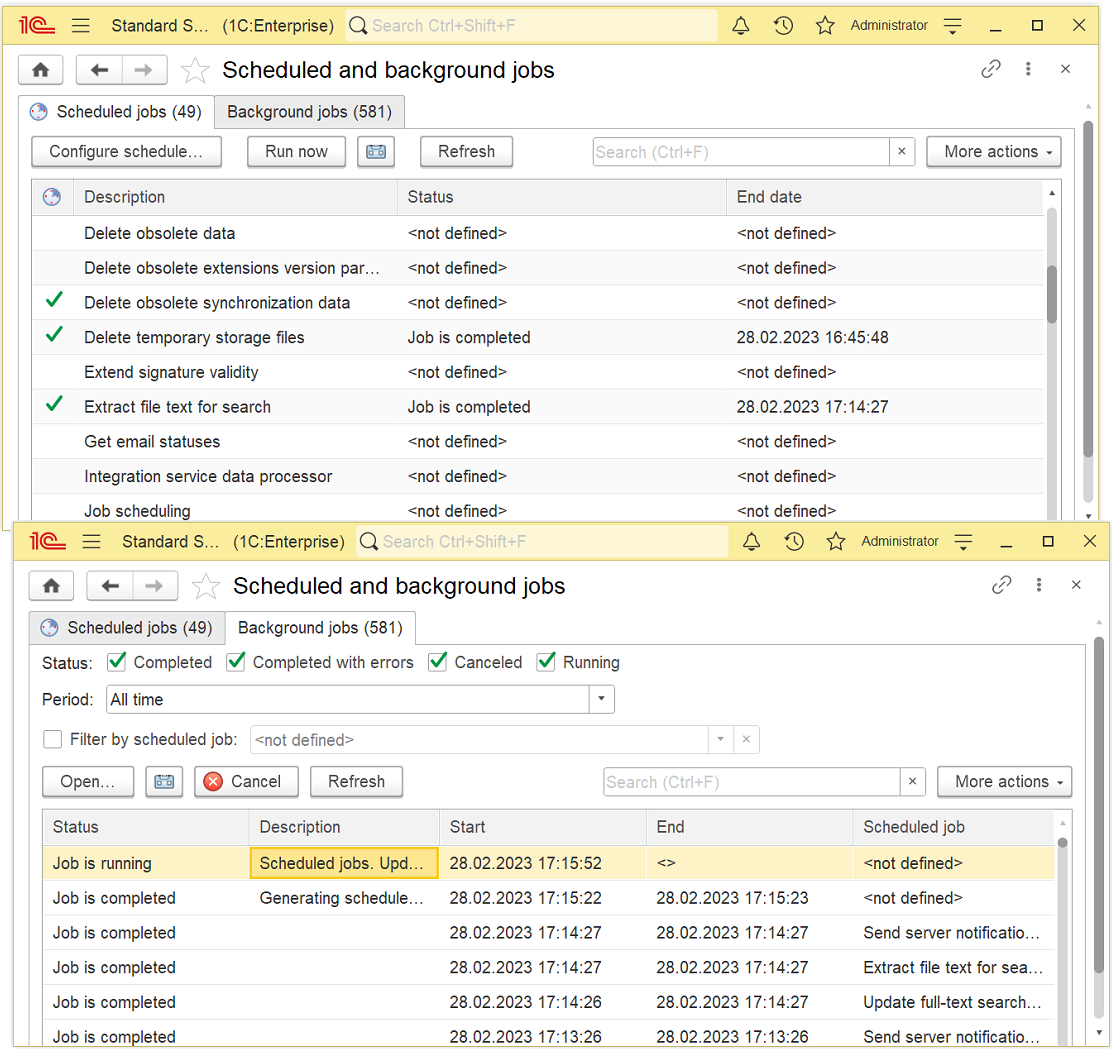 Infobase Backup
Creation of information database backup copies on demand or according to a schedule.
Recovery of infobase copies from backup.
Reminding to configure backup settings (also in client-server mode).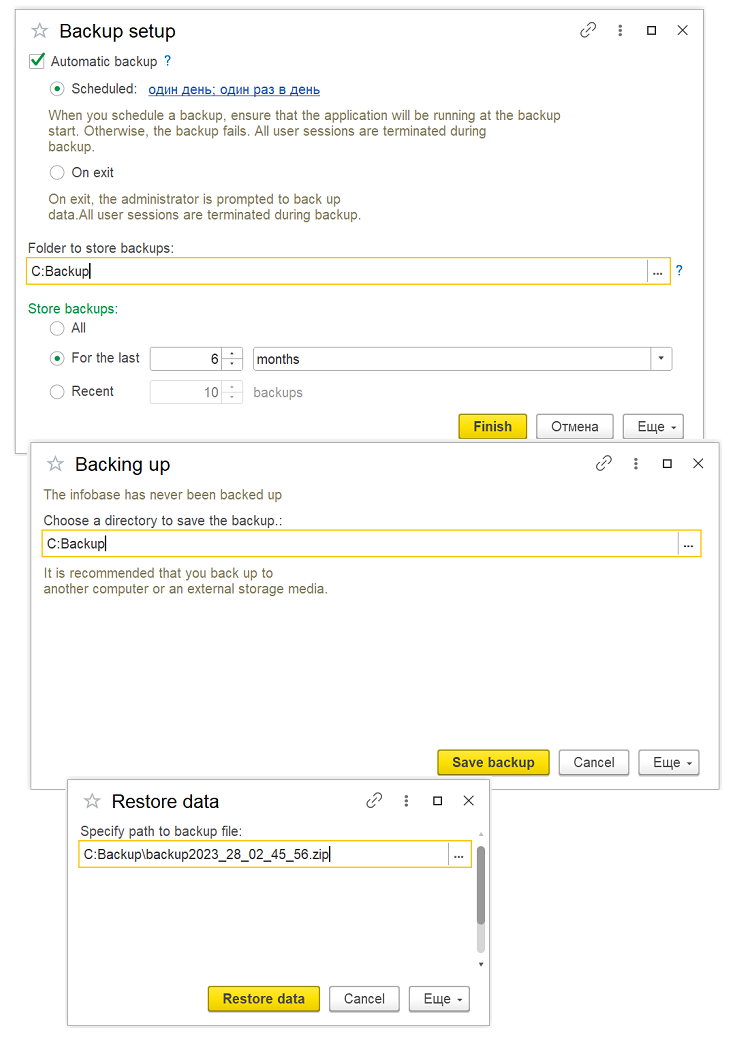 Marked Object Deletion
Deletion of marked objects with subsequent control of integrity (checks if other objects refer to deleted ones).
Scheduled deletion of objects in the background.
Option to hide objects marked for deletion.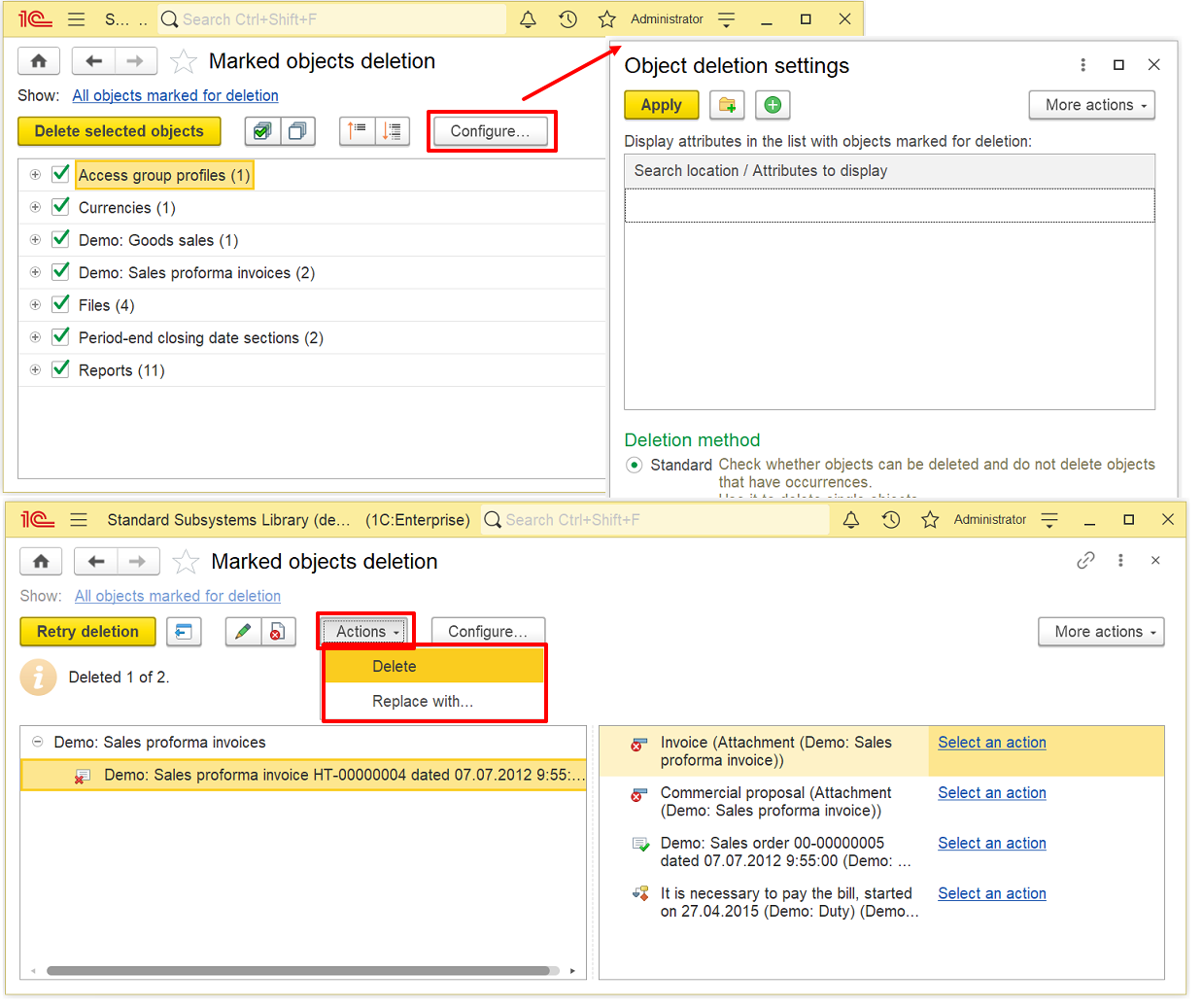 Totals and Aggregates Management
Administration of totals and aggregates in turnover accumulation registers.
Scheduled moving of totals border, recalculation, and updating of aggregates (according to the schedule).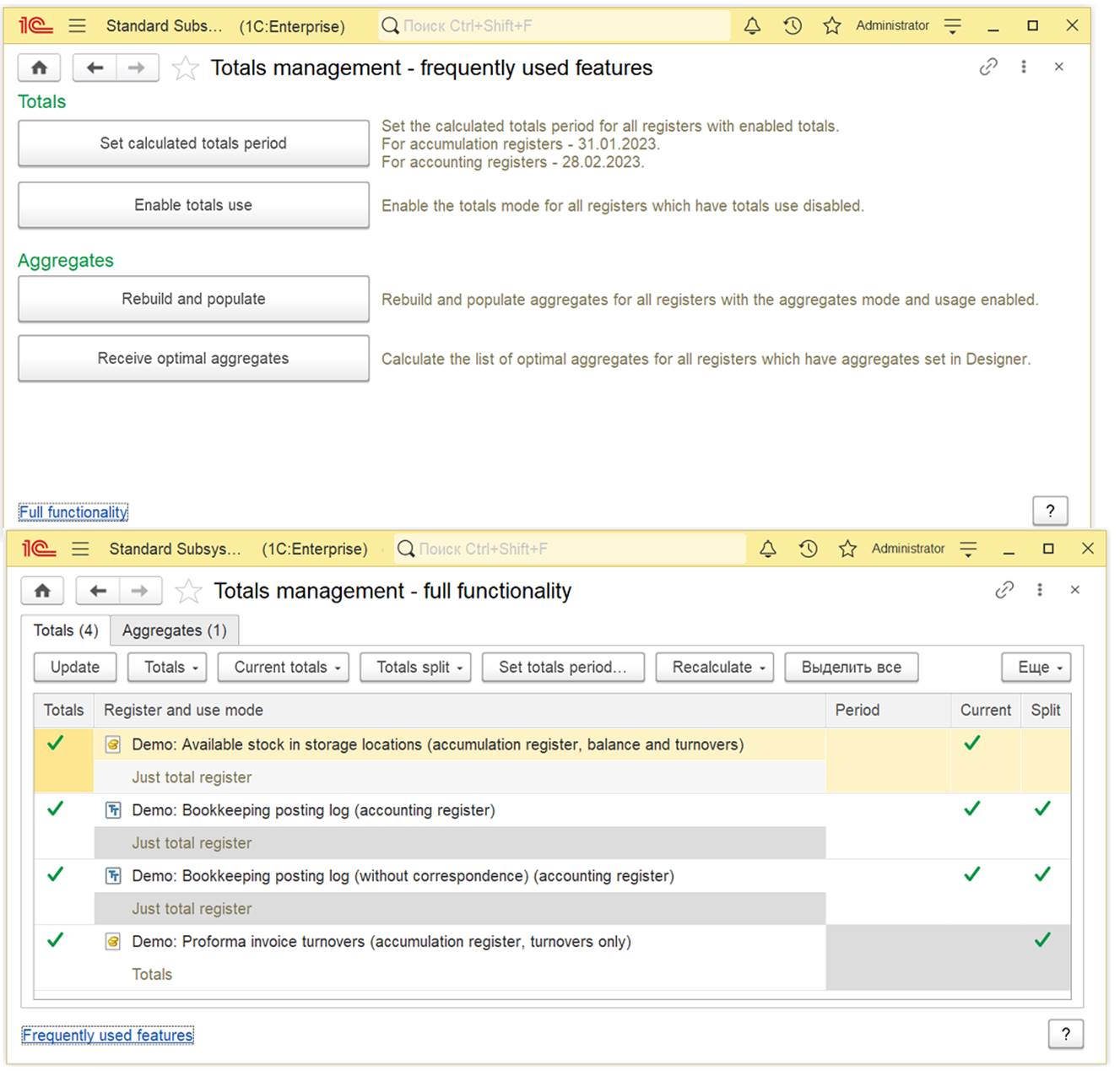 Next page:
Service Subsystems
Get more details: Downloads