200 COLIN'S shops in Turkey automated with the 1C:Retail solution powered by 1C:Enterprise

1C-Rarus, a partner of 1С Company, has finished the first stage in its current international project of automating the COLIN'S retail chain. The retail management system, which has been implemented in 200 COLIN'S shops in Turkey, was created based on the 1C:Retail solution powered by 1C:Enterprise.
This new multilingual solution also gives COLIN'S the ability to implement such unified retail management processes in all the countries where the company does business.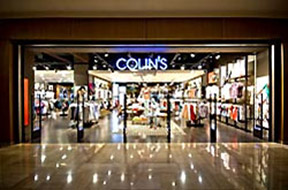 The reliability and scalability of the 1С:Enterprise 8 platform will meet the management requirements of 500 to 2500 shops in more than 20 countries around the world.
The COLIN'S trademark is part of the Eroglu group of companies. The company was founded in Turkey in 1983 as a manufacturer of raincoats and jackets. In 1992 it was converted into the industrial sewing company Eroglu with the COLIN'S trademark. Now COLIN'S specializes in producing a wide range of fashionable clothes for men, women and children. The international retail chain now consists of 670 shops in 32 countries, with more than 3000 people being employed by the company.
COLIN'S' core marketing principle is to ensure the satisfaction of its customers through a wide range of goods and high quality service. COLIN'S shops are a reliable source of modern and interesting clothing and other items for its customers, who are always given choices in line with current trends and fashions. COLIN'S continues to improve its global and local strategies to achieve success internationally across several markets.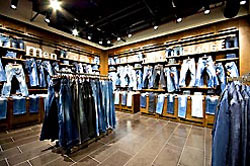 It is just this business strategy which in 2010 spurred COLIN'S to begin looking for new ways of raising the overall quality of its retail sales management. To achieve this goal, the company decided that it needed to monitor what was going on in each of its shops at specific periods of time while simultaneously supporting critical business processes.
It is just this business strategy which in 2010 spurred COLIN'S to begin looking for new ways of raising the overall quality of its retail sales management. To achieve this goal, the company decided that it needed to monitor what was going on in each of its shops at specific periods of time while simultaneously supporting critical business processes.
To provide these features, a centralized retail management for all shops in all countries was required. It was obvious that the system must be able to provide the company's managers current, reliable information on the following business processes: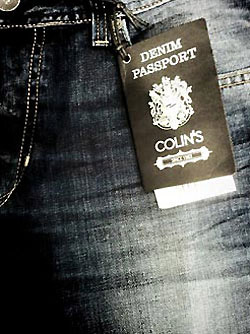 Receipt and movement of goods between warehouses and shops;
Returns, including goods returned from customers and returns to suppliers;
Sales and sales reporting in each shop of the retail chain;
Cash operations: receipt and movement among shops;
Discount management and support of customers' local activities
Before making the decision to move over to this retail management system, COLIN'S' Russian subsidiary successfully used 1С:Enterprise 8-based systems for its local bookkeeping and tax accounting. The positive experience and the recommendations of the Russian subsidiary then convinced COLIN'S' management that the 1С:Enterprise 8 platform would be the best choice for their entire international project.
1C-Rarus was brought into the project for its expertise in the field of international IT projects based on the 1C:Enterprise business application platform.
The global project was divided into several phases according to geography. The pilot phase of the project covered a group of COLIN'S shops in Turkey. The specialists from 1C-Rarus initially managed to launch 1С:Retail 8 in five pilot shops.
During the pilot stage, 1C-Rarus specialists also prepared all the necessary support documentation and trained COLIN'S' local IT staff. It gave COLIN'S staff the freedom to distribute 1C:Retail 8 to another 190 shops in Turkey and organize its own internal advanced support for the new system.
During the first phase of the project, 1C-Rarus specialists offered COLIN'S support in the form of consultation and remote assistance. 1TÇ, a local partner of 1С Company in Turkey, supplied the licenses for 1C:Retail 8.
This first stage of the project managed to optimize several critical processes, including goods receipt and retail sales, the execution of marketing activities and daily reporting.
For example, the old information system failed to manage mismatches between orders to suppliers and goods receipts. It would then calculate the inventory balance incorrectly.
This issue was resolved in 1C:Retail 8. When the user registers a receipt of goods in the shop, the system checks for any mismatches between the expected and actual quantities of each SKU and registers any discrepancies it might find. Any goods which do not correspond to the orders to suppliers are then returned. The warehouse is thus organized as efficiently as possible.
In the old information system, sales were not automatically registered in the system, and any mistakes made by the user would result in an incorrect inventory balance.
The 1C:Retail 8 system automatically records each stock transaction, thus preventing data loss. Both shop and headquarters management will therefore see only clear, reliable information about the stock currently in shops.
This 1C:Retail 8 solution also centralized the process of retail discount management, reducing user error and eliminating discrepancies while allowing management greater control in the supervision of pricing directly from the head office.
Any new reports in the old information system were developed by external specialists, and the reporting module options were limited. The company's commercial information was therefore not fully secure and protected.
In contrast, 1C:Retail 8 allows COLIN'S' own IT department to develop new reports by themselves. The company's managers can therefore get all the data they need, when they need it.
The first phase of this international project is now complete. It has already allowed COLIN'S to do the following:
manage its retail chain in Turkey (around 200 shops) more efficiently;
create an integrated control system and automatic data exchange between shops and the HQ office thanks to the integration of 1С: Retail 8 with the master system at COLIN'S' head office;
use the same universal functionality of this retail management system in other countries where COLIN's operates, including:

stock management: operations, i.e., movement, sales and returns of goods;
processing of original discount programs;
processing of marketing actions;
unified reporting according to corporate standards.
One of the fruits of this initial stage of the two companies' collaboration is that COLIN'S now has the know-how and practical experience to implement 1C:Enterprise 8-based software in the other 20 countries where it does business.
The 1С:Enterprise 8 platform offers many benefits to users – reliability, scalability and flexibility – which can facilitate the work of from 500 to 2500 retail outlets. This unified and multilingual retail management system will aid the growth of the COLIN'S international retail chain.
Murat Kizilirmak, COLIN'S Project Director, says: "In close collaboration with the experts from 1C-Rarus, the retail management system was launched in around 200 shops in Turkey. Thanks to full integration with the management system, the central office now obtains daily status updates on the progress and growth of each of our shops. All the business data we need arrives to the central office on a daily basis, and we use it to make important decisions, increase inventory turnover and increase profits. We can also respond to the customer's needs in time to prevent potential losses at any point in our retail chain."
According to Alexander Selivanov, CEO of 1TÇ (a local partner of 1С Company in Turkey): "We offered them the industry-specific solution 1С:Retail 8, only customized for Turkey, which not only corresponded to all our customer's requirements but could also integrate with their network and process transactions of more than 1500 shops in a single database.
One other vital aspect was that the solution we proposed based on the 1C: Enterprise 8 platform has open source code – so the functionality of the software can be upgraded on demand, whenever the customer wants it."
April 28, 2012
1C Company publishes a number of new articles on 1C:Enterprise 8 architecture, standards and methodology.
May 14, 2012
1C:Accounting Suite fully supports International Financial Reporting Standards (IFRS) for business processes implemented in the system.