AJ Auto Spare Parts FZE, an international auto parts supplier, on using FirstBIT ERP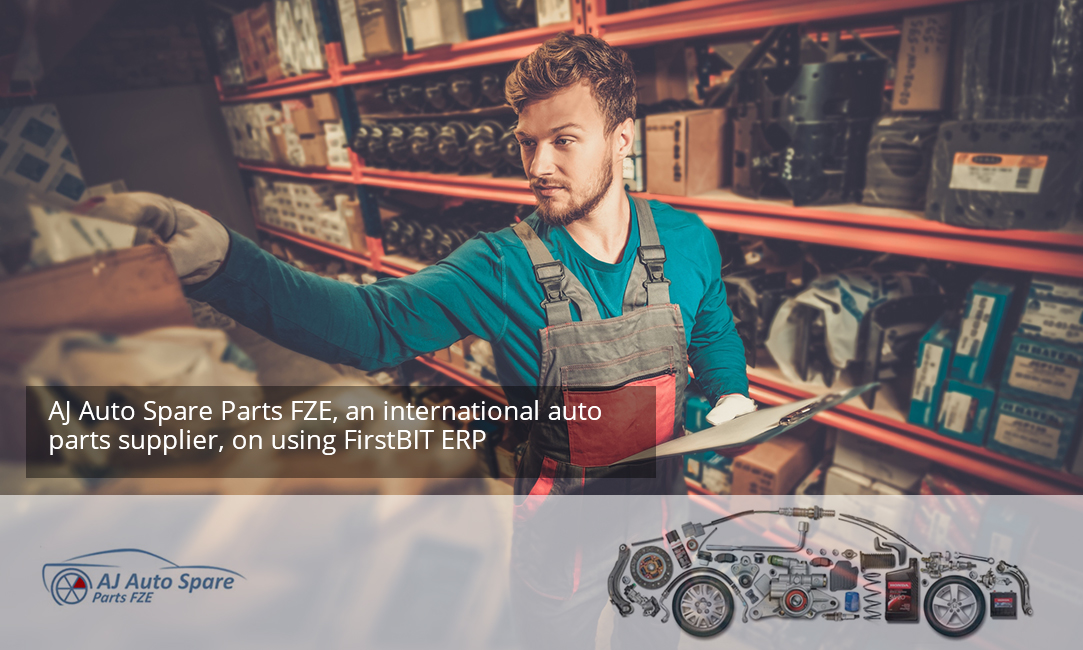 In search of a modern IT solution capable of removing the existing data processing hurdles and generally improving all aspects of information exchange throughout the company, AJ Auto Spare Parts FZE turned to the First BIT Dubai team. The IT solution provider's flagship product, FirstBIT ERP, based on the powerful 1C:Enterprise 8.3 platform, has been chosen as the answer to the customer's needs. The new automation system has solved a number of data processing issues and given a significant boost to the company's performance.
Before AJ Auto Spare Parts turned to First BIT for aid, the lack of an efficient automation system had resulted in unreasonably long data processing times within and between company departments.
Data collection and report preparation had been difficult to accomplish. This included information gathering for decision-making purposes, as well as preparation of legally required business documentation. Data processing in Excel had been extremely time-consuming and delayed order fulfillment. The main office database had a 100K product item limit, insufficient for the needs of the local branch, especially the cost estimation needs. There had been no established way to summarize brand- and manufacturer-specific sales. The information on a given sales order's profitability had been difficult to gather, rendering order profitability analysis a complex and slow procedure. With real-time inventory control practically nonexistent, salespersons had frequently included out-of-stock items into active orders only to discover the parts to be taken from the shelf some time ago to fulfill another order.
As the business had grown to reach the average of 50 new documents entered into the system every day, these and other issues had become more serious, making a new level of efficient business automation and management a necessary step toward successful operation.
The customer's strategic objectives were as follows:
Increase the speed of customer order processing
Bolster sales growth via automated processing of incoming inquiries and offers
Improve the inventory turnover management by implementing real-time stock control
Adopt a comprehensive information exchange system with modules covering the operation of each company department
The immediate goals were:
Migration of estimation and order processing from Excel to a new company-wide data system
Integration of other data sources and systems (company website and the Russia HQ database running on 1C:Enterprise 7.7 platform) within the new comprehensive, company-wide solution
Development of an application logic that would provide the functionality and convenience required by the company users across multiple branches and departments
The IT solution provider's flagship product, FirstBIT ERP, based on the powerful 1C:Enterprise platform and taking core functionality from 1C:Small Business product, has been chosen as the answer to the customer's needs, complete with flexible configuration and customization options.
The entire project from initial client company assessment to the full system launch has taken 14 months. The solution has been installed onto the client company's server, user access rights have been set up within the new system, and data integration with the main office database has been implemented. Additional services included IT infrastructure update (MS SQL Server installation, backup utility setup, networking hardware update recommendations, etc.) and user training for groups and individual employees, as well as preparation of technical manuals for specific user roles.
In order to solve the identified problems and reach the goals set by the client, the following tasks have been accomplished:
A custom parts estimation module, paramount for any auto parts business, has been developed from scratch. The functionality includes automated part availability search and price comparison across multiple data sources within the industry, saving a significant amount of human-hours.
A custom inventory control module has been developed to cover the entire inventory and warehousing cycle from receipt to order fulfillment and invoicing. The functionality also includes minimum stock level and part equivalent control, purchase orders, and supplier-related accounting.
A comprehensive automation system has been developed following the company's business process flow, with individual modules for each department. The system allows for real-time information exchange and processing, such as automated record-keeping of makes and models, assembly sets, manufacturer's options, creation of purchase orders based on customer orders, etc.
12 workstations have been fully automated.
The implementation of the customized FirstBIT ERP solution has resulted in the following positive changes in the customer company operation and performance:
Reduced times of procurement, customer order, and inventory processing
Greater inventory and order fulfillment efficiency based on better stock control
Improved customer service thanks to the reduced amount of human-hours spent on order processing and record keeping
Greater efficiency of product variety management and business forecasting
In particular, the real-time, shelf-based stock control provided by the new system has minimized order fulfillment errors and reduced order processing times twofold, significantly improving the speed and quality of service.
"The new automation system provided by First BIT has resolved a bunch of processing issues we used to have and given a visible boost to our performance in general. Faster order fulfillment and better inventory control translates into greater sales volume and customer satisfaction. We're totally pleased with the software and recommend First BIT to any business looking to improve."
- Dmitriy Grosu, Head of Sales Department, AJ Auto Spare Parts
About AJ Auto Spare Parts
AJ Auto Spare Parts FZE is a wholesale auto parts supplier with offices and warehouses in the UAE, Russia, China, US, Canada, and South Korea. For more than 20 years it has been supplying original spare parts for Japanese, South Korean, and US-manufactured cars, also providing bulk buyers with cargo consolidation and other logistical services. Besides warehousing facility workers, the company's Dubai branch has more than 20 office employees.
Website: www.dubaiparts.ru
Software evaluation, from 1 to 5:
The degree to which the software meets the company's needs: 5 (5 points meaning the system provides all functionality required)
The software's convenience and usability: 5 (5—the software is easy and convenient to use)
How well First BIT Technologies did their job: 5 (5—you are very satisfied with their work)
How likely you are to recommend this automation solution to others: Yes (Certainly; likely; unlikely; absolutely not)
Start date of using the software in business operation: August, 2015
May 4, 2016
1C:Small Business 1.5.3.37 includes bugfixes in business logic and in the interface.
May 29, 2016
1C Company released early access version of new development environment 1C:Enterprise Development Tools for editing existing configurations or creating new applied solutions.