Bang & Bonsomer Group is a group of companies engaged in the implementation of smart technologies and materials, including the field of accounting automation. Smart material technologies are a combination of distribution, own products, smart process technology solutions, services, and own application laboratories/technical centers. Bang & Bonsomer operates in 9 different countries.
The previous automation system was almost completely redesigned and this ultimately led to difficulties in the update. The company held a competition to select the best new product. Upon completion of testing various solutions, Bang & Bonsomer made a choice in favor of the modern 1C:ERP software, developed on the 1C:Enterprise platform since the execution of business processes in almost all scenarios didn't require any improvements. This integration project was named "Sputnik".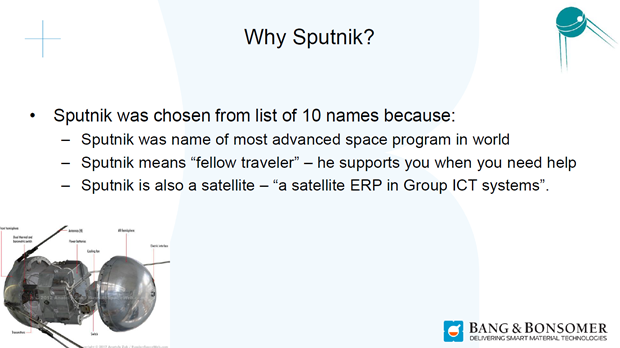 Cinimex company was chosen as a project performer. Bang & Bonsomer has been successfully collaborating with them for more than 11 years.
Project objectives
1. To switch the enterprise's accounting to 1C:ERP, ensure full integration with the unified information environment of the Bang & Bonsomer group of companies.
2. To optimize business processes in every area of the company's activity.
3. To increase the level of process automation, reduce the number of routine operations.
4. To enhance the quality and transparency of information.
5. To improve the payment discipline of customers.
6. To decrease the cost of goods transportation.
7. To ensure the managerial, regulatory and tax accounting in accordance with the IFRS.
8. To provide the possibility to update and further develop the system.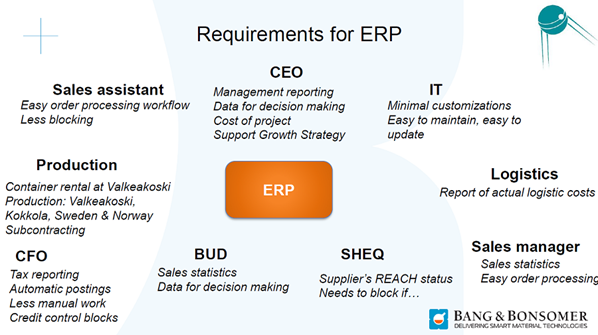 Project uniqueness
§ The project was fulfilled remotely since the implementation teammates physically were in different cities (from Helsinki to Voronezh).
§ The 1C:ERP system was integrated with other corporate systems.
§ To meet the requirements of corporate data security standards, Cinimex specialists developed individual settings for delimiting access rights.
§ To reduce the labor costs of users, the following robotization elements were introduced: a workplace for a logistics manager, automatic loading of state customs declarations, automatic document creation when moving and shipping the goods, automatic control of storage and transportation of dangerous products and lots of others.
Project results
1) Enhanced accounting transparency;
2) Less routine but more analytics;
3) Such improved business processes as the system of control and execution of payments, moving procedure between the warehouses, goods acceptance and shipment, sampling management, control of transportation of dangerous products, etc.;
4) Arranged accounting in compliance with the IFRS and the corporate standards;
5) Significantly increased overall efficiency of employees' performance;
6) Enhanced discipline of co-worker interaction and optimized functioning of different departments and services.
7) The system was fully integrated into the corporate IT landscape, including master data management.