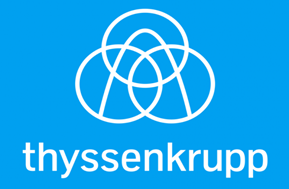 Integration specialists from LAD have automated time-tracking for a division of the German company Thyssenkrupp Industrial Solutions. The time-tracking software (TTS), created on the 1С:Enterprise platform, helped organize control over the time spent by employees on project execution. The accuracy of calculating each project cost and profitability has been improved. The efficient planning of project activities, flexible management of all work stages, and rational use of staff time have been achieved.
Thyssenkrupp Industrial Solutions is a regional division of Germany-based Thyssenkrupp AG, one of the leaders in the field of international design and construction of chemical, petrochemical, oil refining, and other industrial plants.
The company can run simultaneously up to 10 large-scale projects. Each project may take 2-3 years to be completed and requires efforts of dozens of employees.
To enhance the efficiency of project management, it was needed to implement an information system that would enable the enterprise's leadership to keep track of the use of staff working time and strengthen control over the integral efficiency.
LAD, one of the largest 1C Company partners, was chosen to develop such a system.
Key project results:
The ensured efficient time-tracking allows the company's management to control and analyze the labor costs by projects, stages, project tasks, as well as by individual subdivisions and employee categories.
The staff's executive discipline has increased due to the transparency of the daily routines of each specialist. This makes the employees use their working time more efficiently.
It is now possible to objectively evaluate each worker's expertise, comparing task complexity with the actual time spent on the realization. This helps to more rationally plan and control the execution of each project stage.