1C software developer takes first place at WorldSkills Kazan 2019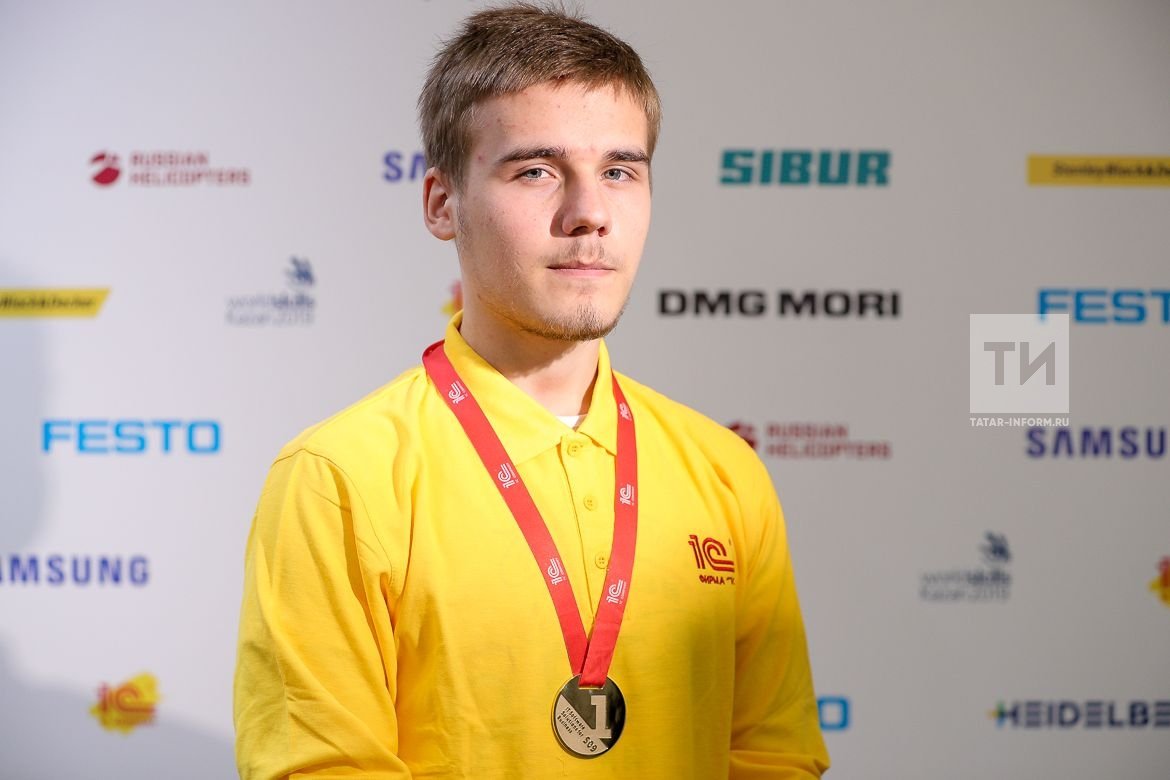 Kirill Pavkin, a 17-year old high school student from Stavropol, has won first place in the business application development S09 "IT Software Solutions for Business Sandbox" experimental competency. From August 23 to 26, nine participants from eight countries – Kazakhstan, Malaysia, Morocco, Russia, Taiwan, the Philippines, Finland, and South Korea – competed in this skill. Their results were evaluated by an international jury of experts from Costa Rica, the United Arab Emirates, Russia, Taiwan, the Philippines, Finland, and South Korea.
The Russian development platform 1C:Enterprise was presented at the WorldSkills international championship for the first time. Three of the young programmers developed applications using 1C:Enterprise, while the other six used C# and Android Studio.
The results of the 6 top participants, who were all awarded medals: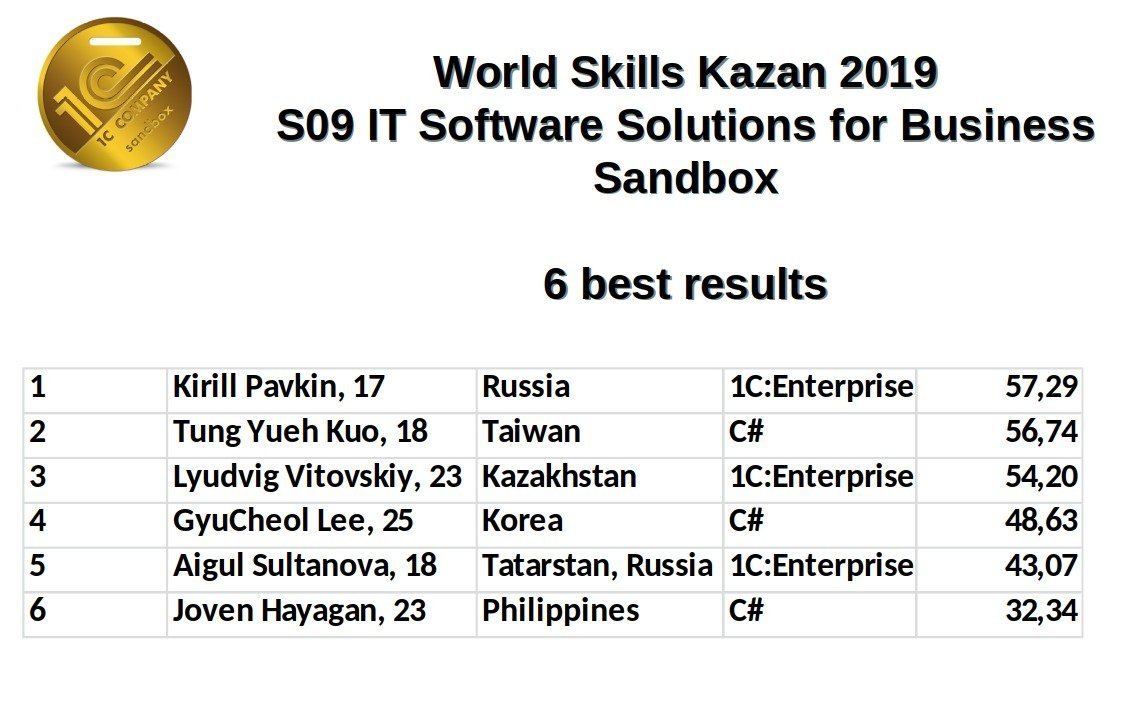 As a special prize from 1C Company, all winners received invitations to paid internships at the 1C Development and Training Center and with leading 1C partners. They will be able to take advantage of the resources of the 1C-founded fundamental departments at leading universities and take part in exciting automation projects on the 1C:Enterprise platform.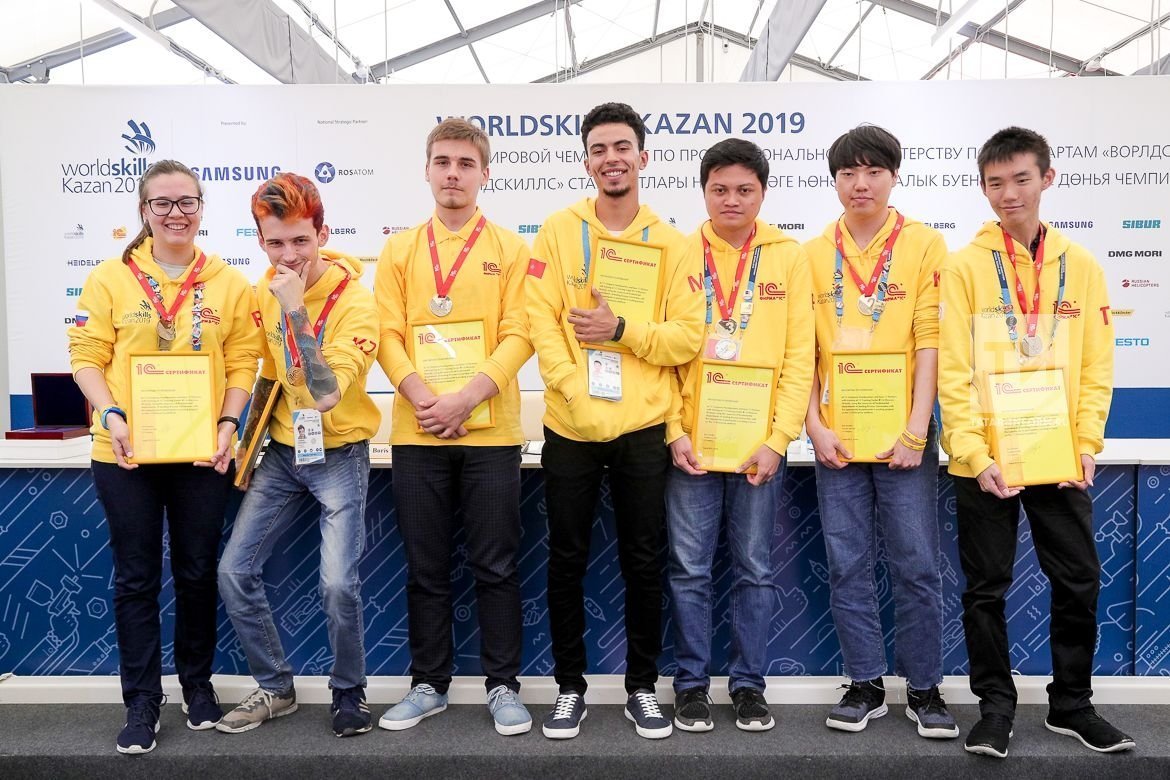 Joey C. Manansala Jr (Philippines), the chief competition expert, noted that the objective of the sandbox competition was to evaluate 1C:Enterprise together with other development platforms and that it will be considered as part of the infrastructure list for Skill 09 in WorldSkills Shanghai 2021. Competitors using 1C:Enterprise ranked 1st, 3rd, and 5th out of 9 competitors. The results of Sandbox 2019 demonstrate that 1C:Enterprise can be used in the competition and moreover, has the capabilities to meet the requirements for creating vast business solutions.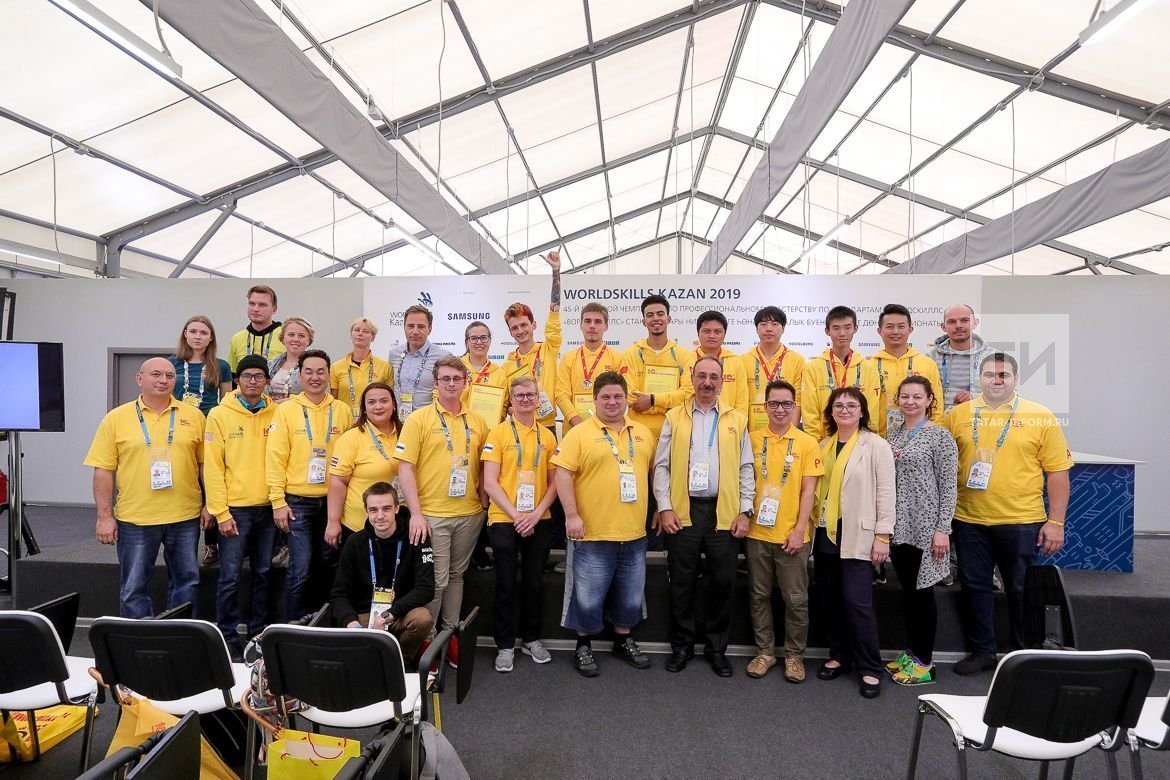 "1C Company thanks WorldSkills International for the opportunity to partner with such a large-scale professional event. Training is key for the development of the information technology industry. We were pleased to provide the hardware and software for 21 competencies of the IT block and the Future Skills block and are very pleased that Russian technologies are beginning to be used at such a high-level championship, alongside the products of world-famous IT giants. I think this experience will be useful for many members of the WorldSkills movement who are trying to support their national IT business," said Boris Nuraliev, founder and director of 1C Company.
August 7, 2019
1C:Enterprise 8 Mobile platform v. 8.3.15.59 is available, with many fixes and improvements.
September 2, 2019
1C:Enterprise Development Tools 1.13.0.226 is available, with many new features and improvements.