1VS software gets Sao Khue 'double pick' 4th year in a row
Hanoi, VTC broadcasting channel hosted the Sao Khue (Sao Khuê*) award ceremony. This year the ceremony was timed to the 10-th anniversary of Sao Khue contest.
The event was attended by several high ranking officials: Mr. Vu Duc Dam (Vũ Đức Đam) – a member of the Central Committee of the Party (Secretary of the Government Office); Mr. Bui Van Cuong (Bùi Văn Cương) – a candidate member of Central Committee of the Party (Secretary of the Party Committee for Central Enterprises); Mr. Nguyen Bac Son (Nguyễn Bắc Son) – (the Minister of Information and Communications); leaders of the Ministry of Science and Technologies; representatives of mass-media, radio and over 300 business representatives of various branches.
Sao Khue award ceremony is the largest Information Technology industry event in Vietnam. The contest lasts three rounds: preliminary, valuation and expert rounds.
This year Sao Khue award was presented to 66 software products from various fields.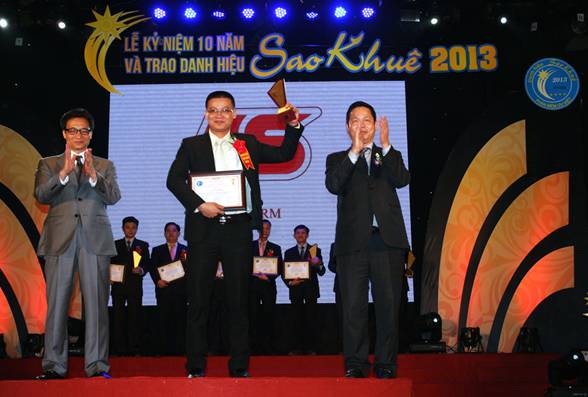 1VS Company participated in the contest with two software solutions: 1C:Trade Management ("1C:Quản lý thương mại") and 1C:All-Round Management ("1C:Quản lý tổng thể").
1VS software products are based on 1C:Enterprise 8 – a modern, extremely robust, and powerful technology platform. The platform creates an integrated automation of business tasks for planning, accounting, and management for a wide range of enterprises and organizations.
A year has passed since the launch of 1C:All-Round Management solution and has gained much success due to the integration projects performed by 1VS and its partners for several large manufacturing enterprises. The solution implements automation of all business-processes based on customers' requirements of business accounting, activity monitoring, planning and analysis, CRM, planning and monitoring of the progress of jobs and services, and other process automation needs.
1C:Trade Management solution participated in the "4 stars" category of software solutions for large enterprises (according to the contest's classification) and had received the Sao Khue award for the first time this year. A unique feature of the product is it's capability to 'scale' with the growth of the enterprise, ensuring reliable operation and data processing for hundreds of users at a time.
So, on the 10-th anniversary of the Sao Khue contest both these 1C:Entperise based software products have received awards, which are the 4th awards for 1VS software in total. In 2010, 1VS Company received Sao Khue awards for two other solutions: 1C:Accounting 8 ("1C:KẾ TOÁN 8") and 1C:Business School ("1C:Giáo trình điện tử").
In 2011, 1VS applications were considered for the awards ceremony – 1C:Accounting 8 and 1C:Retail 8 ("1C:BÁN LẺ 8") had received awards among 46 other nominees for the prize. These two standard solutions offer wide possibilities to users and made the "4 stars" category of products.
In 2012, two software products - 1C:Retail 8 and 1C:All-Round Management had received Sao Khue award again. Just two months after 1C:All-Round Management had been launched, the contest's expert council had highly praised the product due to the solution's flexibility. And 1C:Retail 8 solution received this prestigious award a 2nd year in a row.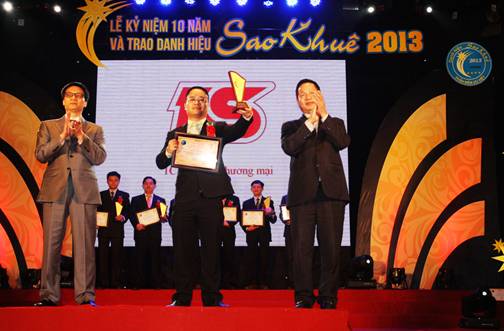 Through 10 years of its history the Sao Khue contest has changed in the number of participants as well as in the quality of products nominated. From a simple voting system it has migrated on to the expert evaluation and as a result – marketing acknowledgment of the award. "Sao Khue" title has become a special "stamped paper" confirming the quality, superiority and high-efficiency of commercial products and services in the Vietnam Information Technology sector.
1VS software products on 1C:Enterprise 8 platform have received 8 such "stamped papers" to date. This has motivated employees in 1VS to improve their products and services for maximizing customer satisfaction and meeting Vietnam IT market demands.
* "Sao Khuê" – name of a constellation in ancient China, one including Andromeda and Pisces constellations known nowadays.
About 1VS company
Established in 2006 in Hanoi, Vietnam; 1VS JSC is a Regional partner of 1C Company and operates as a developer, integrator and distributor of software solutions for business automation on the 1C:Enterprise 8 platform.
1VS offers software solutions for a wide range of commercial enterprises, non-commercial organizations and personal use. There are over 3000 companies in Vietnam using 1VS solutions in their everyday business operation.
Web-site: www.1vs.vn
Phone: +84-43514-85-50
April 29, 2013
1VS automates sales transactions of the new trade center – from the point of sale (POS) to overall accounting.
June 19, 2013
Specialists of the First BIT Company successfully finished the project to automate administrative and operational processes at Umi Sushi restaurant