Automation of a warehouse of Phoenix Contact company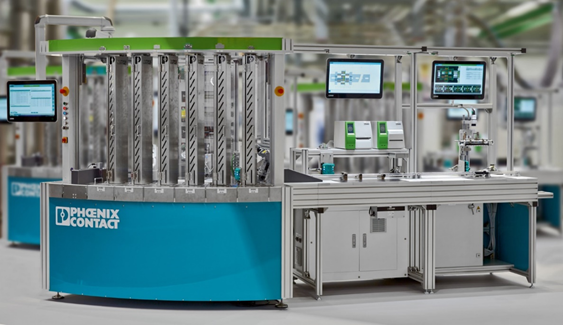 Phoenix Contact Rus LLC is the unique authorized representative of Phoenix Contact Group, a supplier of advanced solutions in the field of electrotechnical engineering and industrial automation systems.
Due to the lack of an automation system in the warehouse with a regular increase in the range of products, the company couldn't optimally use the available resources. The efficiency was low because of the insufficiently fast execution of warehousing operations. The warehouse functioned on the "paper technology", there was no automated accounting of expiration dates and serial numbers of goods. Online technological process management wasn't possible.
With the implementation of the warehouse management system (WMS), Phoenix Contact Rus planned not only to automate the execution of warehousing operations but also to organize efficient control of the state of the warehouse, as well as personnel management.
Axelot company, an expert in the field of the automation of logistics and warehouse processes, an official 1C Company partner, successfully performed this project.
Project results
1) Achieved faster and more accurate execution of warehouse operations. The overall warehouse capacity is doubled.
2) The warehouse was completely transferred from the "paper technology" to the automated system. The object is controlled in real-time, which allows operating with actual data on the availability, quantity and location of the goods.
3) The integrity of the information service of the warehouse operation was achieved through the integration of 1C:WMS with the Phoenix Contact corporate information system and the web service of the transport company. Thus, the introduced system not only controls the process of generating requests for transportation and transfers information about the volume of cargo to the carrier's service but also interacts with the ERP-system of the company responsible for managing the key business processes.
November 17, 2019
Improved property management processes at Four Seasons Hotel Moscow
November 27, 2019
1C:Enterprise helps the international beer brewing company Efes maintain the high quality of products at the factories in Russia