1C:Small Business facilitates financial accounting (which covers both bank accounts and cash assets) and provides a payment calendar. It also supports integration with online banking client software.
Payment calendar
The payment calendar is a finance planning tool that gives you control over your financial obligations. The main purpose of the calendar is to prevent cash deficiencies (situations when there is not enough money on hand to perform scheduled payments). It can also help you to determine payment priorities.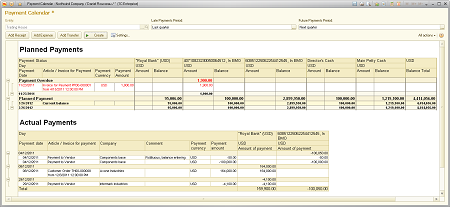 The payment calendar can clearly show any overdue payments – this report is often demanded by small enterprise owners or financial directors.
The payment calendar is generated based on scheduled payments and expenses (such as purchase orders) and on other financial plans.
Bank and cash accounts
You can manage multiple petty cashes – for example, the main cash, director's cash, and so on. 1C:Small Business allows you to register cash receipts, expenses, and transfers, including foreign currency operations.