1C:Small Business can facilitate inventory accounting (including unfinished goods) for multiple retail stores and warehouses. This includes detailed accounting by warehouse racks, cells, and shelves, or shop stalls.
1C:Small Business supports separate accounting for a variety of inventory replenishment options, including regular purchases, purchases by dependent entities, consignment storage, and receiving give and take raw materials. The amounts required to replenish the supplies are calculated automatically based on production orders and customer orders.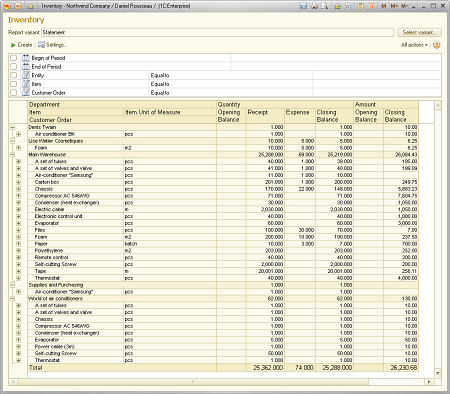 FIFO and weighted average methods are supported for inventory accounting purposes.
All inventory transactions, including inventory receiving, inventory transfer, and inventory reconciliation, are recorded as documents. A variety of measurement units is supported, including packages, boxes, and more.
1C:Small Business supports separate accounting for warehouse and financial operations. This simplifies paperwork in the following cases:
Goods are delivered to the warehouse before the accompanying papers arrive. In this case a purchase order receipt is created when the goods are delivered, and an inventory receipt is created when the papers arrive.
A sales invoice is issued before the goods are shipped to the customer, to eliminate potential logistical issues. In this case a warehouse employee creates a sales invoice receipt based on the sales invoice.