Export interface texts to a MXL file with the help of Edit interface texts tool.
Use the Import interface texts (MXL) button in the Dictionary: Application Primary (Dictionary entries) form.

Translate the dictionary entries. It is recommended to access the dictionary from the navigation panel and to translate it as one whole.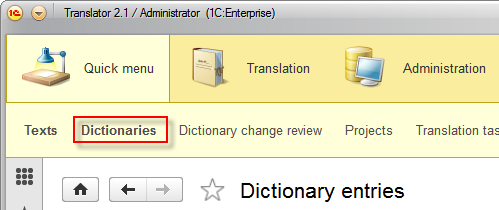 When the dictionary translation is completed, press the Export all as interface texts button to export the dictionary in the primary dictionary group form.

Import the translated interfaces using the Edit interface texts tool. Since string formatting is currently unavailable, please remove the Has formatted strings check box.