Exported configuration files are the primary source of data for configuration translation on the 1C:Enterprise 8 platform.
Before exporting, use the Configuration check tool in Designer mode to check that the configuration contains no errors. Configuration files that require translation are exported from the source configuration and are imported for translation by using the Import directory into project folder command.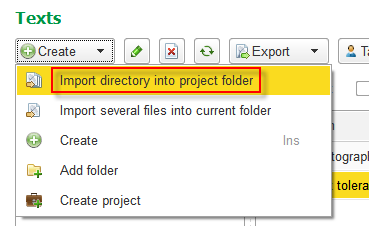 Translation planning and text distribution are described in the Collaboration section.
Dictionary creation and text translation are described in the Working with general features section.
The translated files should be imported into a new configuration.
To export texts when they are translated, select them in the list of texts and use the Export selected translations command.

The translated configuration cannot be processed automatically, that is why after translation errors in source codes should be corrected manually and the resulting application should be tested.