The configuration object editor window is intended for editing properties of core configuration objects, managing the structure of their subordinate objects, and setting up object interaction rules.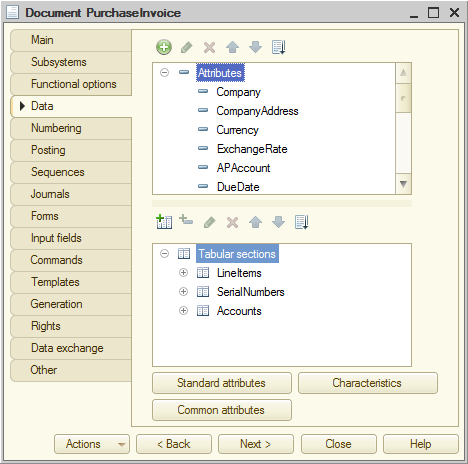 The properties that can be edited are located on several tabs. Each tab contains a set of attributes used for setting specific object properties. You can switch between the tabs by clicking Next and Back.
The set of tabs may vary depending on the configuration object type, as well as the set of fields on tabs of the same type. Some objects can have unique tabs that are only applicable to a single object type. For example, the Posting, Journals, and Sequences tabs are unique to document objects.
Configuration object editor window capabilities
The configuration object editor window allows you to perform the following actions:
Edit configuration object properties in the optimal order, first specifying the values that might be required later
Edit configuration object properties in no particular order by switching between the tabs manually
Edit predefined items of configuration objects (provided that the object supports predefined data)
Open and edit forms related to the object;
Create subordinate configuration objects (such as resources, attributes, dimensions, forms, and templates)
Delete subordinate configuration objects while checking the configuration for references to the objects being deleted
Search for references to the configuration object in other configuration objects
Search for references to other configuration objects in the configuration object
Run wizards related to the configuration object
Next page: Configuration object tree
See also: