The highest level of cloud scenarios is the SaaS model of application delivery. In this scenario customers don't purchase or install applications, but work with applications over the Internet and periodically pay for this service. Applications are installed and supported by a service provider on its cloud infrastructure.
The service provider usually maintains 24/7 application availability, updates applications, creates backups, and handles data security. Customers pay for the necessary amount of a service (for example, per user per month pricing), and use the application via a web browser.
Such business models eliminate customer installation, update, equipment and software costs, as all these functions are performed on the service provider side. Customers utilize applications as services.
Each 1C SaaS application works in the multitenancy mode, with customers having independent data areas for their information. Each customer using SaaS applications can have multiple users (e.g. employees, vendors) working with the applications. Each customer can work with multiple applications at the same time.
Customers using a SaaS application can see only their data, whereas on the service provider side all customers are working with the same application instance and database. This allows the SaaS vendor to perform rapid and simultaneous updates for all customers.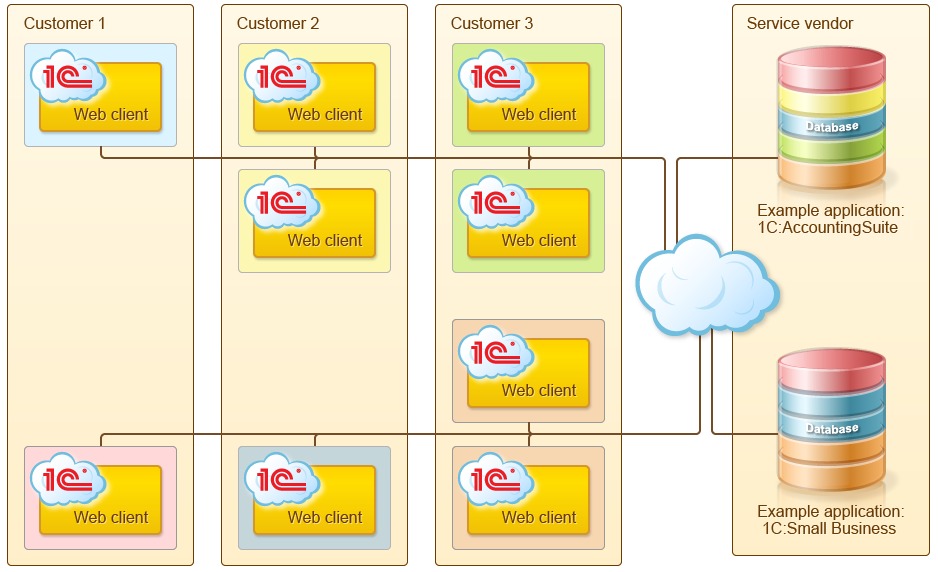 SaaS advantages:
Customers don't have installation, update, equipment, and software costs
Customers have 24/7 worldwide access to applications from any device over the Internet
Customers always work on the latest version of the application
Go to the page:
Working online