Platform interface languages are intended for creating applied solutions for users that speak different languages. Developers can use platform interface languages to switch the applied solution development interface to their native languages.
Once the platform language is selected, the following platform components are displayed in this language:

Platform menus
Platform dialog boxes
Platform messages
Oline help
To be able to use an interface language, you have to install it using the platform distribution kit.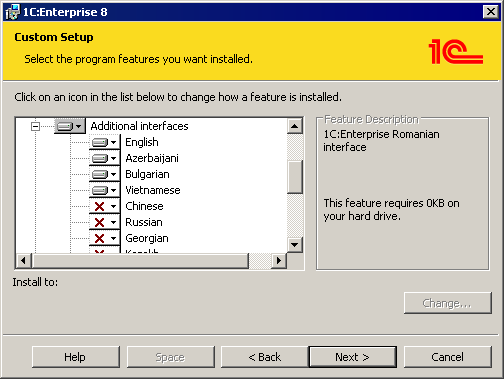 Developers can set one of the interface languages as the default language. For example, they can develop applied solutions using the German interface.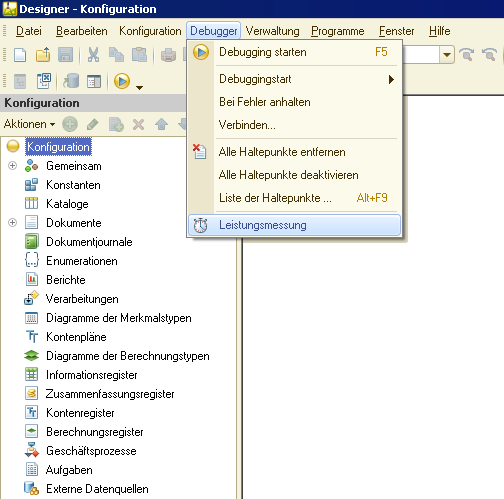 Users can specify the platform interface language during the start of the client application.

The language selection at the start of 1C:Enterprise does not restrict infobase functionality in any way. Multiple users with different interface languages can work in a single infobase. Also, you can run multiple 1C:Enterprise instances with different interface languages on a single computer.

The standard platform distribution kit includes the following interface languages:

Arabic
Azerbaijani
Bulgarian
Chinese
English
French
Georgian
Hungarian
Kazakh
Latvian
Lithuanian
German
Polish
Romanian
Russian
Turkish
Ukrainian
Vietnamese
The platform localization was performed in cooperation with the following companies:
Azerbaijani: 1CAFA - 1C Azerbaijani Franchise Association, Baku, Azerbaijani
Bulgarian: DAVID Holding Co., Kazanlik, Bulgaria
Chinese: Garant, LLC, Tomsk, Russia in association with Millenium Institute Limited, Wanchang, Hong Kong
Georgian: Integrated Business Solutions Ltd., Tbilisi, Georgia
Hungarian: ZG System Group Kft, Hungary
Kazakh: Zerde LLC, Almaty, Kazakhstan
Latvian: ANDI M, Riga, Latvia
Lithuanian: Avakompas, Vilnius, Lithuania
Polish: 1C-Poland Sp. z o.o., Warsaw, Poland
Romanian: Contabilizare-Prof S.R.L., Kishinev, Moldova in association with 1C-Account Timbal SRL, Bucharest, Romania
Turkish: DND Yazılım Bilişim Teknolojileri San. Tic. Ltd. Şti., Ankara, Turkey
Vietnamese: 1C Vietnam, LLC, Hanoi, Vietnam
Next code:
Unicode
See also: