To open the About 1C:Enterprise window, on the main menu, point to Help and click About, or click the i button in the system commands area.

Fig. 221. Opening the "About" window
This window displays general information about 1C:Enterprise system and its run options.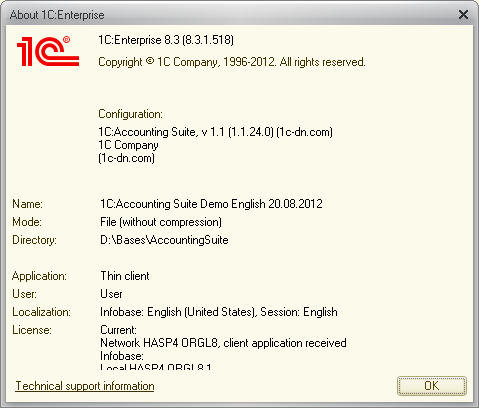 Fig. 222. The "About" window
The window displays the following data:
1C:Enterprise version.
Configuration name and version.
Infobase details:
Infobase name, as defined in the infobase list that is displayed during 1C:Enterprise startup.
Database format (data storage format): file or client/server.
Infobase directory and regional infobase settings.
Client type (

Thick client,

Thin client

, or

Web client

), connection speed, and data compression mode (

without compression

,

compression: normal

, or

compression: enhanced

).
User name. If the full user name is specified and it does not match the short name, the name is displayed in the following format:

Short name;

Full name

.
Infobase and session localization.
1C:Enteprise client and server license information, which includes the current license and all the previous ones.
Information for technical support

hyperlink, which displays the application info and the error log.
You can copy the information displayed in the window to the clipboard using a context menu command.
The next chapter: Chapter 13. Search expressions