Some lists allow limiting the displayed data to a specific period.
To set a period, on the All actions menu, click Set period.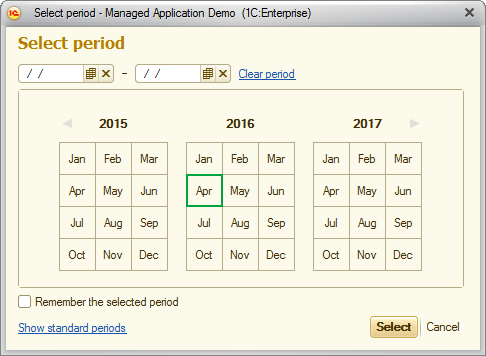 Fig. 100. Setting a period for a list
You have the following options:
If the

Select period

field, select a period.
Select any of the standard periods.
In the calendar fields, select the start and end dates.
To clear the period, click Clear period.
To save the period and apply it next time the form is opened, select the Remember the selected period check box.
To apply the period, click Select. Pressing Spacebar or Enter applies the period selected in the calendar field.
To discard the changes, click Cancel.
The selected period appears as a new button in the command bar of the list form. To change the period, click the link on the button.
To clear the period, click the cross on the button.
Next page:
Selecting a custom period