1C:Enterprise stores the history of your work. You can use the history for quick access to Infobase objects that you recently created or updated (such as documents or list items).
Once you create or update an object, 1C:Enterprise displays a notification about this event and adds the event to the history. For more information about notifications, see Notifications.
The history is stored in the Infobase. If a single Infobase object was opened multiple times on different days, each day contains a link to that object. If an object was opened several times within a single day, only the latest object opening is displayed in that day's history.
Viewing history. Click the History button in the bottom left corner of the main application window. This opens the list of events (see fig. 172). To open an object form related to an event, double-click the event.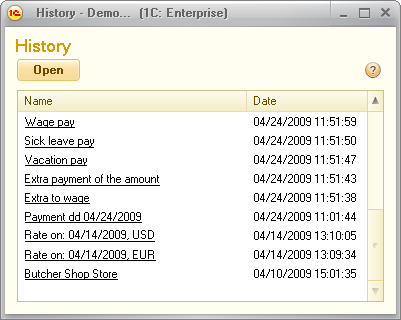 Searching history. To search for an event, right-click anywhere in the list and click Find. Searching history is similar to searching lists. The history supports quick search. For detailed information about searching lists, see Searching lists.
Refreshing history. The application reads the history when you open the history window. It does not refresh the window automatically. To refresh the history, close and reopen the window.
Next page:
"All functions" menu