1C:Enterprise supports three interface modes:
Taxi

Forms in tabs

Forms in separate windows
This manual describes the Taxi interface, including navigation techniques.
For the descriptions of Forms in tabs and Forms in separate windows interfaces, see 1С:Enterprise User Manual.
1C:Enterprise applications have multiple windows. There are two types of windows: main and auxiliary.
In the main application window, you can navigate throughout the application, execute functions, and perform operations with specific database objects (such as documents or list items). Auxiliary windows provide access to system functions such as a calendar or a calculator.
To open a form, find the required function (open list, enter document, and so on) in the interface, and then execute the function by clicking it or pressing Enter).
The interface mode is set by the application developer. You can change it if the developer provided this option. To learn how to change the interface mode, see Customizing system options.
When you start an application, its main window is displayed. This window shows the application structure. The major application features are listed in the sections panel.
In general, the main application window looks as follows: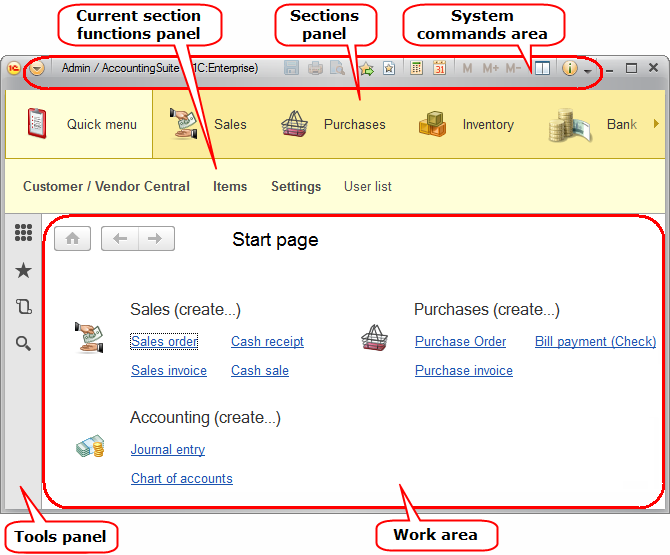 Fig. 1. Main application window
The window layout provides easy access to application functions and navigation between application areas, open forms, and windows.
You can resize the main window.
Next page:
Start page