1C:Enterprise features a built-in calendar. You can open it in any application mode. To open the calendar, on the main menu, point to Tools and click Calendar. The calendar is also used to enter dates.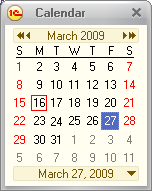 Fig. 182. Calendar window
The calendar window displays the current month. The first row displays the month name and the year. The second row displays days of the week. The current date has a red border. To select another date, click it. The selected date has a gray border and it is also displayed at the bottom of the calendar.
To change the month and the year, use the arrow buttons.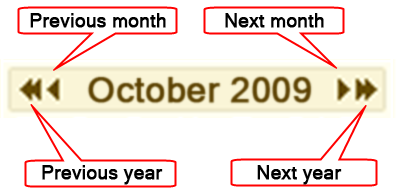 Fig. 183. Navigation buttons
For the quick selection of the current date, month beginning or end date, or year beginning or end date, we recommend using the context menu that is opened with the button located in the bottom line to the right of the selected date name.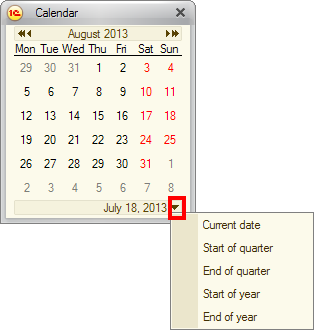 Fig. 184. Calendar. The selection context menu
If you click the row containing the name of the month and the year, a list of months available for selection is displayed. Move the mouse pointer up or down to scroll through the list. Select the required list item to change the month.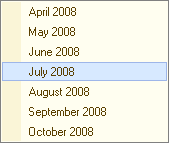 Fig. 185. Calendar. The list of months
You can drag the calendar to any place on the screen and resize its window.
If you increase the calendar window size, more months are added to it.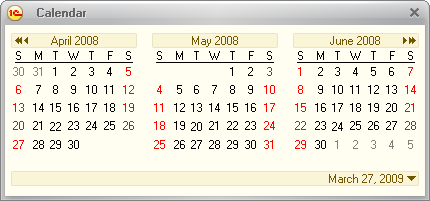 Fig. 186. A calendar for three months
Months are added when the size of the window is increased in any direction. When the size is decreased, additional months are removed.
A calendar can also be available as a form item linked to an attribute that stores a date. In addition, in text boxes that store dates, you can pick a date from a calendar. To pick a date, click the selection button or press F4.
Operations available in these calendars are identical to those described above.
Next page:
File comparison