If an error occurs, an application displays a dialog box with an error message. The number of buttons in the dialog box may vary, as well as their purposes. A sample error message is shown in the figure.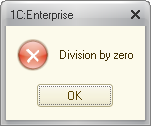 Fig. 193. Error example
For detailed information about the error, in the About 1C:Enteprise window, click Show technical support information. For more information about this feature, see "About" window.
In the event of unexpected application shutdown the system displays a dialog box stating that a dump is being written. Once the recording is completed, the dialog box is closed.
The next chapter: Chapter 11. Customizing applications