1C:Enterprise features a built-in calendar. You can open it in any application mode. To open the calendar, on the main menu, point to Tools and click Calendar. The calendar is also used to enter dates.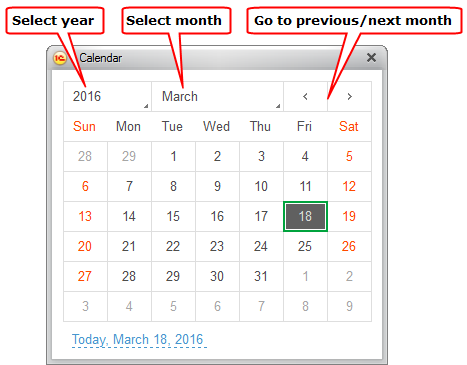 Fig. 176. Calendar window
The calendar window displays the current month. The first row displays the month name and the year. The second row displays days of the week. The current date has a green border.
To change the year, click the year number.
Tip. When selecting a year from the list, you can press Page Up or Page Down to scroll to the previous or next year interval.
You can select the current date by clicking the Today, <date> hyperlink at the bottom of the calendar window.
Tip. To select the first day or the last day of the month, click Home or End.
To switch between months, use the arrow buttons in the top right corner. To switch to a specific month, click the month name and then select a month from the list. You can also switch between the months by pressing Page Up or Page Down.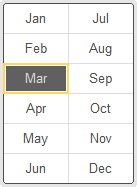 Fig. 177. Calendar. A list of months
You can drag the calendar to any place on the screen and resize its window.
If you increase the calendar window size, more months are added to it.
Next page:
Temporary locks