Use this category to specify the font type, size, style, and color, whether empty or negative values are highlighted, the background and pattern color, and the style of individual cell borders.
To customize a cell border, click the selection button. This opens the selection dialog box.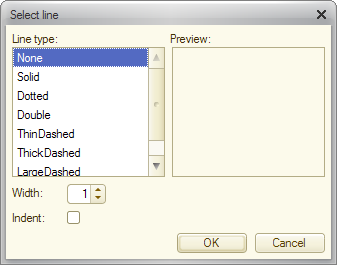 Fig. 272. Line selection dialog box
You can select the line type and width.
The dialog box displays a line preview.
To add an indent to a border, select the Indent check box. See an example in the figure below.

Fig. 273. A bottom border with an indent
Next page:
Specifying picture properties