1С:Enterprise supports operations with data stored in external databases. Depending on the application settings, you can view external source data, use this data in reports, and perform operations with this data using the web client.
The system administrator specifies the general settings for connecting to an external data source.
An attempt to access data stored in an external source requires establishing a connection to that data source unless the connection was established earlier. Once a connection is established, the operation continues. If the connection parameters have not been specified, the application displays the dialog box for entering the parameters.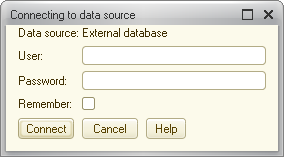 Fig. 103. The external data source connection dialog box
You can save the user name and password for future use, provided that you have enough rights for this. To save the parameters, select the Remember checkbox. After you have entered the data, the application connects to an external source and displays the following message: Connected to the external data source successfully. Try again. Then you can continue working with data from the external source.
Next page:
Using print forms